1000 Years of the Art of Japanese Books: Treasures from Tenri Central Library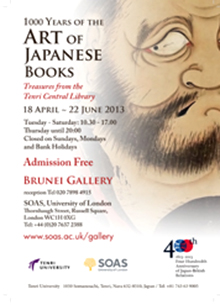 Statement of Purpose: Tenri Central Library is well known among book enthusiasts around the world for its valuable and rare collection of classical Japanese books from various genres and periods. In commemoration of the academic partnership reached between Tenri University and the School of Oriental and African Studies (SOAS), University of London in August 2011, we will hold an exhibition of these books at the Brunei Gallery in SOAS under the title "1000 Years of the Art of Japanese Books: Treasures from Tenri Central Library." This exhibition will give an overview of the one thousand year long history of Japanese classical texts and highlight their bookbinding style, format, paper quality, illustration and calligraphic style so that Japanese book culture can be appreciated in all its beauty.
We are reminded of the close ties between Japan and the United Kingdom, as we are able to hold this exhibition in this year 2013, which marks the 400th anniversary of the two countries' relations. It will give us tremendous joy if this event makes Japanese book culture accessible to many people in the UK and around the world, including specialists of Japanese studies, book enthusiasts and anyone interested in Japan, and helps deepen their understanding and affinity for Japan.
We will have a programme of public events and demonstrations throughout April, May and June to introduce and explain some of the key themes in the exhibition to new audiences – these will include Gagaku, Tea Ceremony, calligraphy, Sake tasting, origami, and lectures using the exhibition as their setting.
Date: 18 April – 22 June 2013
Venue: The Brunei Gallery, SOAS, University of London, Thornhaugh Street, Russell Square, London WC1H 0XG
Tel: 0207 637 2388
Email: Takeuchi123@hotmail.com
Web: http://www.soas.ac.uk/gallery/tenri/
Organiser: Tenri University and SOAS, University of London