F1 Fan Forum with Mark Blundell at the Korean Cultural Centre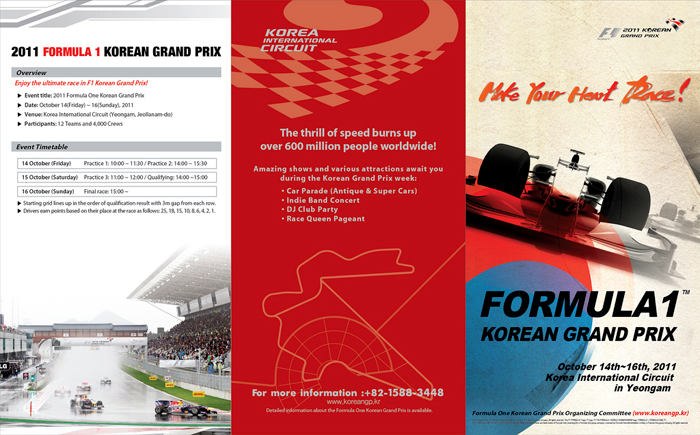 Date: 5th September, 7pm
Venue: Korean Cultural Centre UK, Grand Buildings, 1-3 Strand, London, WC2N 5BW
In 2011 the Korean International Circuit (KIC) in Yeongam will host Round 16 of the Formula One race calendar. To celebrate this event, the Embassy of the Republic of Korea invites you to a F1 Fan Forum at the Korean Cultural Centre UK, Grand Buildings, 1-3 Strand, London, WC2N 5BW on Monday 5th September 2011 at 7pm
To take part in this event and to ask Mark a question about F1 today or about his three decades in the upper echelons of elite global sport please reserve your place and remember to include your question(s) with your RSVP.
The Korea International Circuit is, for the first time in F1's history, a circuit that has been built in advance and then a city has been developing around it.
The KIC is comprised of two courses – a 5.615 km international race circuit which incorporates a partial street circuit, and a 3.045 km permanent track.
Designed by Hermann Tilke, the circuit incorporates distinct Korean elements, such as the tiled roofs of traditional Korean houses. The circuit can accommodate up to 130,000 spectators, with 16,000 seats in the main grand stand.
Among the highlights of the track is the 1.2 km straight, the longest straight of any current Asian Formula 1 circuit. While the majority F1 circuits are designed to run clockwise, the KIC joins a select group of counter-clockwise tracks.
About the Speaker
Mark started his sporting career at just 14, and for nearly twenty years he competed at the very top of world motorsport, including Formula One, IndyCar and World Rally. His wins even include the prestigious Le Mans 24-hour Endurance Race.
From 2001 through to 2008, Mark was integral to ITV as part of the 3-time BAFTA award-winning team, providing F1 analysis alongside Jim Rosenthal and Steve Rider. In 2005, he and close friend, Martin Brundle, founded 2mb Sports Management. In January 2009, Mark took sole ownership of 2mb Sports Management and is now committed full-time to using his experience, knowledge and connections to provide personalised full-service agency and management.