150 Years On: the Satsuma Students in Britain and the 'unequal treaties' – Andrew Cobbing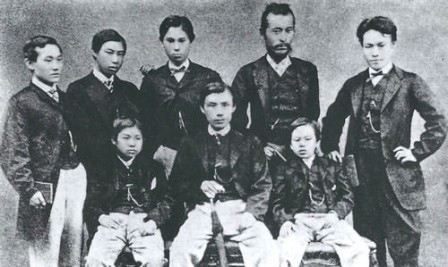 This year marks the 150th anniversary of the arrival of the Satsuma Students in Britain. Most of this group of nineteen went on to enrol at University College London, although the leaders were otherwise engaged talking to the Foreign Office or buying textile machinery in Manchester. It was a project remarkable because overseas travel was still illegal in Japan, and because Satsuma and Britain had been at war less than two years before. Some members of this party went on to become senior diplomats in the Meiji regime and played key roles in early attempts at treaty revision. After recapping on the Satsuma Students' momentous journey, and how this has been commemorated in stone, this paper explores these diplomats' experience in tackling the so-called 'unequal treaties'.
Andrew Cobbing studied History at Bristol and then, after a year on the JET Programme, focused on Japan for his Masters (Kyushu) and PhD (SOAS) degrees. Now based at the University of Nottingham, he spent several years in Japan managing a student exchange programme at Kyushu University, and two years in China helping to set up Nottingham's campus in Ningbo. Early publications included The Japanese Discovery of Victorian Britain (1998) and The Satsuma Students (2000). He has been involved in translation projects such as Kume Kunitake's official account of the Iwakura Embassy (2002) and Clouds Above the Hill (2014), Shiba Ryōtarō's epic historical novel of the Russo-Japanese War. An interest in regional history has also led to works on Kyushu (2009) and Hakata (2013). His current project is on treaty revision in an international perspective, a theme suggested by several contributions he has written on Meiji diplomats for the Japan Society's Biographical Portraits series.
Date: Monday 20 April 2015, 6.45pm
Venue: The Swedenborg Society, 20-21 Bloomsbury Way, London WC1A 2TH