Via Trio heads for Europe for its second time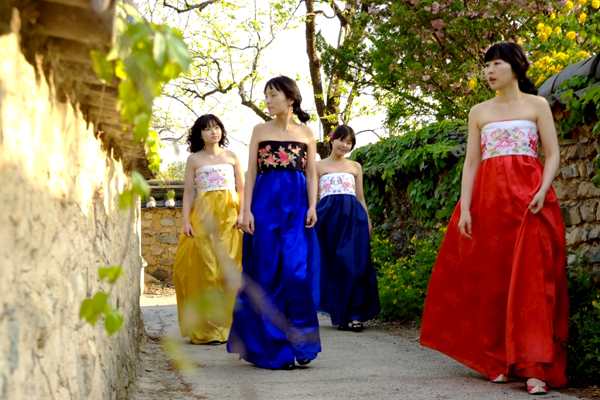 Via Trio is a piano trio. In classic music, the organization of piano, cello, and violin is called the piano trio. It's a small orchestration but is an impeccable orchestration that sounds a rich ensemble. Moreover, Via loves ensamble. Lately in its concerts, Via formed an ensamble with the classic guitar. "Via", in Latin, means "the Way", and "through". When travelling Europe, it is easy to come across the word "via" in the signs.
The reason behind choosing "VIA" as the name of our trio is because we hope Via Trio to always be on the road (anywhere that wants the music of Via), in other words accessible, so that it can be a means of connecting people and people together.
VIA's start. When and How?
Via Trio set out on its journey in year 2007. Three close friends from school were asked to cast in a subscription concert for a cafe. For the three girls, it was a bliss from the preparation to the performance. As a result, VIA TRIO was established. It was made with the hope to play.
2009: Via Trio's first tour to Europe. Go to Europe, to play ARIRANG.
The percussion of Korea is famous worldwide. Kim Duk-soo's Samulnori (Korean traditional percussion quartet) and Nanta (a contemporary version of Samulnori) receives recognition not only domestically, but internationally. Already, Korea Percussion is being acknowledged around the globe. What is then said, about the Korean melodies?
Percussion is all about the rhythm, and rhythm is definitely less effective then melodies in its spreading effect.
What we learned from our textbooks in our childhood are all folk songs from overseas, such as 'The Danny Boy' and 'Jenny, the Blond Hair Girl'. Now, such songs are newly arranged and reproduced by guitar, violin, piano, and even by the orchestra. The new, are then open to the public and to the Korean generations. Our descendents will then, enjoy those music as we enjoyed the songs of our time. The power that keeps music alive from a generation to a generation. That is the power of the melody.
Once, the article had selected the most beautiful melody of the world. The melody which was selected was the 'ARIRANG'. Korea already owns so much beautiful music, and melody that the world has yet to find out.
I am guessing that nearly everyone has had the experience of coming by a song that does not leave you alone for an entire day. Music, that you are not exactly certain of, but at the same time, the music that you seem to have overheard just yesterday. Melody, in other words, is imprinted on our minds without us even noticing.
Having belief in the Korean melody, in summer of the year 2009, Via Trio headed toward Europe though nobody has welcomed them. The 40-day tour started in a motel in Frankfurt, Germany.
In Frankfurt, Via Trio held a house concert with the manager of the motel and a German couple.
Since then, Via Trio have been holding street concerts in GoethePlatz, Baden, Heidelberg, Berlin AlexanderPlatz, KarluvMost, Prague, Netherlands, Eiffel Tower of Paris, London, etc.
2011: Via Trio heads for Europe for its second time " Via Trio International version part 2. Again, goes to Europe to make Arirang heard."
Via trio leaves for Europe in year 2011 with its third album, titled "Via Trio international version part 2. Again, goes to Europe to make Arirang heard." The outlined itinerary Schedule is: from London as the beginning 6/21 to various countries 8/19. Especially, Via Trio has named a performance "Sing Along Arirang", especially for the 2nd generations of the Korean society. The title embraces within it, the meaning of "the Korean melody that one desires to pass onto its generations".
Once I came by an article which read that the top two traditional games the mothers want to teach their children were "Sesese Game"and "the rubber band game", respectively. Despite what the article reads, when a teacher is asked about the two games, that children do not play them anymore, not because it's boring, but because they do not know about it, is what comes as a reply. In its second tour to Europe, Via Trio has prepared programs with games and Korean melodies, which the family, as a whole, can sing, listen and enjoy.
If anyone is in need of Via Trio performance during the period of its tour, mail us through e-mail so that the performance takes place upon deliberation.
Inquiry: yehymn@hanmail.net
[pro-player width='530′ height='253′ autostart='true' type='video']http://www.youtube.com/watch?v=H2lmdRbbygI&feature=related[/pro-player]