2s, 3s and 4s by Natsko Seki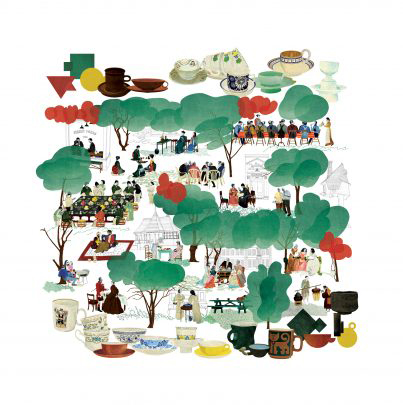 2s, 3s & 4s is the first London solo exhibition of Natsko Seki, an established freelance illustrator known for her bright and playful style. For Seki, each project is an opportunity to take up a challenge and discover more – experimenting with new techniques in the pursuit of a new language. Exploring the role of the narrative in her artwork is her most recent obsession and is at the core of her work in this show.
Comparison, a process which encourages you to search for similarities and differences in equal measure, is central to Seki's practice. Her work is focused on discovering analogies and correlations between things made in different times and places, and different countries, cultures, colour combinations, costumes and buildings.
In this new series of work, viewers will find themselves actively comparing images as they are repeated and varied. Through this process, Seki is challenging the viewers to interpret the illustrations and their varying contexts, in order to become storytellers themselves. Drawing viewers into her works, Natsko Seki creates a world where the differences in things have whimsical harmony as well as rhythmical contrasts.
Date: 13 January – 22 February 2017
Venue: Daiwa Foundation Japan House, 13/14 Cornwall Terrace, London NW1 4QP UK
Tel: 020 7486 4348
Email: office@dajf.org.uk
Web: www.dajf.org.uk
Organiser: Daiwa Anglo-Japanese Foundation