5 years since Great East Japan Earthquake 11th March 2011: Charity Concert: Evening with Japanese Songs and Music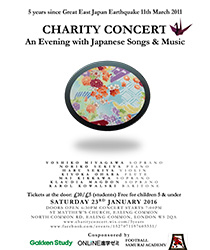 7 musicians living in London are gathering to organise a charity concert to mark the fifth anniversary of the Great East Japan Earthquake.
The earthquake and the tsunami devastated large areas of Eastern Japan, and there are still many children who were orphaned with the largest number affected in Miyagi Prefecture.
We would like to support their lives and dreams, so we decided to raise funds for the 'Miyagi Educational Support Foundation.' The organisation provides financial support for the education of children affected by the earthquake.
Yoshiko Miyagawa Soprano
Noriko Sekiya Piano
Haru Sekiya Violin
Kiyoka Ohara Flute
Mai Kikkawa Soprano
Klaudia Magdon Soprano
Karol Kowalski Baritone
& Friends
Doors open: 6.30pm
Concert start: 7.00pm
Admission: Adults £10 / Students £5 / Free for children 5 & under
Date: 23 January 2016
Venue: St Matthew's Church, Ealing Common, North Common Rd, Ealing Common, London W5 2QA
Web: http://charityconcert.wix.com/5years
Organiser: Bright Future Project