Tadasu Takamine, Too far to see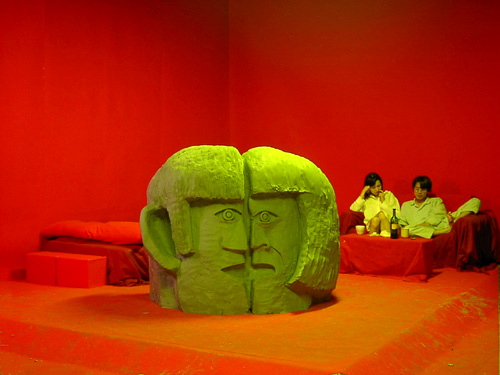 Date: 4 May 2011 – 17 July 2011
Venue: Ikon Gallery, Brindleyplace, 1 Oozells Square, City Centre, Birmingham
Tadasu Takamine is one of the most thought-provoking artists currently working in Japan. Ikon's exhibition, the first in Europe, includes a selection of video works touching on sex, politics and sexual politics, all made since Takamine's emergence as a solo artist from the radical performance group Dumb Type.
Takamine's work Inertia (1998) involves the uneasy combination of a young woman and a bullet train. She is shown close-up and feet first on top of a carriage while the rest of the world flashes past. A powerful electric hum dramatises her fruitless attempts to push her dress down over her legs against the force of the wind; the situation is intensely sexual, unstoppable and exhilarating, clearly drawn from classic fetishism and nightmare scenarios.
Kimura-san (1998), a controversial video piece featuring footage of the artist providing sexual relief for a disabled friend, was previously shown at Ikon in 2002. Revisited for this exhibition, Kimura-san highlights the sexual needs of people with disabilities, a subject which is often unacknowledged or ignored by wider society. The subject of the film, Kimura-san (Mr Kimura), is confned to a wheelchair, barely able to control his limbs having suffered poisoning as a baby through contaminated infant milk formula. Unable to talk, feed himself or perform any toilet activity without help, he can think clearly and is able to make noises with his mouth. The artist cared for Kimura-san during the 1990s, developing effective communication through gestures, which resulted in Takamine's sudden realisation of Kimura-san's sexual desire, and the fact that it could only be fulflled with the help of others. Despite its sympathetic and unpatronising nature, this work remains contentious especially in Japan.
God Bless America (2002), a highlight of the 2003 Venice Biennale, is a comment on the global intrusion of American culture in the post-9/11 world. For eighteen days Takamine and his female partner lived in an entirely red room, filming themselves as they worked, ate, slept and had sex. In the resulting time-lapse footage we see them kick and punch a sculpture into being: a giant head, resembling George W. Bush, which continually sings God Bless America. Like Kimura-san, this work asserts the value of free will.
This exhibition is organised in collaboration with Yokohama Museum of Art and Hiroshima City Museum of Contemporary Art.
Elements of this exhibition contain explicit images that some people may find offensive. Access is restricted to persons aged 18 and over.
A catalogue accompanies the exhibition, priced £18.50, special exhibition price £15.50 (only available in person at Ikon). Visit Ikon's online shop for the full range of Ikon's catalogues and limited editions.