A CONCERT FOR JAPAN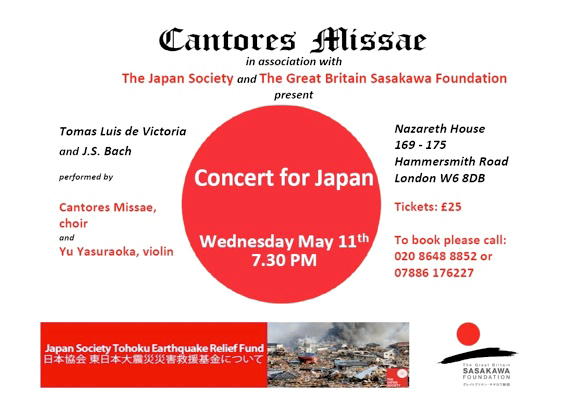 Date: 11 May 2011, 7:30pm
Venue: The Chapel of Nazareth House, 169 – 175 Hammersmith Road, London W6 8DB.
Tickets: £25
Tel: 020 8648 8852
E-mail: admin@cantoresmissae.co.uk
Web: www.cantoresmissae.co.uk
Organiser: Cantores Missae
A concert of choral music by Tomas Luis de Victoria (d. August 27th 1611) whose 400th anniversary is being celebrated this year, and solo violin music by J.S. Bach. (around 70 minutes of music in all), followed by a simple reception in the gardens of  Nazareth House.
Those who are unable to attend the concert will be able to make online donations directly to the Japan Society Tohoku Earthquake Relief fund via their webpage.
So that the Japan Society can identify donations from this concert, please write "May 11" in the gift aid box.   If you prefer to send a cheque, please make it payable to "The Japan Society", write "May 11" on the back, and post it to:    The Japan Society, Swire House, 59 Buckingham Gate, London  SW1E 6AJ.
Our aim is to raise a minimum of £5,000 for this most worthy cause.
In this concert we shall also be marking the 400th anniversary of the death of Tomas Luis de Victoria, performing some of his best known motets and the Requiem Mass for 6 Voices. In addition the distinguished Japanese violinist Yu Yasuraoka will play solo works by J.S. Bach.
We hope that many people will wish to support this concert, or make a donation to help alleviate the suffering of so many thousands of men, women and children in Japan.