A FESTIVAL OF KOREAN DANCE
Eclectic and dynamic dance from Korea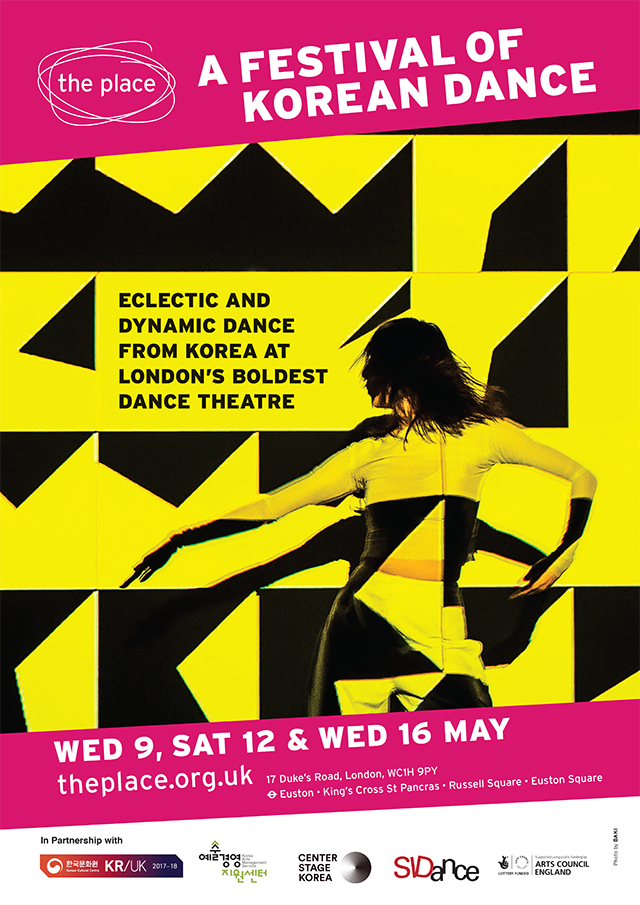 Representing the rich cultural exchange and collaboration between Korea and the UK, The Place is collaborating with the Korean Cultural Centre in London to present a festival featuring performances by five Korean dance companies. This a chance to experience the diversity of the Korean dance scene, from contemporary to hip hop, including the first-ever UK appearance by the Korean National Contemporary Dance Company.
Wed 9 May: Korea National Contemporary Dance Company – <Immixture>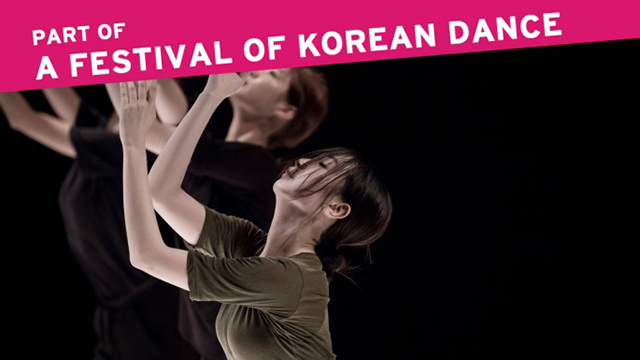 Making their UK debut the celebrated Korea National Contemporary Dance Company present the beauty of Korean dance and music on stage. <Immixture> is a perfect harmony of speed, strength, flexibility and precision performed by five virtuosic dancers who skillfully blend traditional Korean dance and music with vibrant Western melodies and movement.
<Immixture> shows what is Korean, and at the same time brings up curiosity about "What is Korean."
– Jihyeon Lee, Dance Critic (Dance Criticism, 2016)
Choreography. AHN Sungsoo
Lighting Design. KIM Keonyoung
Dancers. LEE Juhee, KIM Hyun, KIM Minji, JEONG Seoyun, SEO Ilyoung
About Korea National Contemporary Dance Company
As one of Korea's pivotal national performing arts companies, and the country's top production company of contemporary dance works, Korea National contemporary Dance Company focuses on producing new works and continuously developing and advancing the company's repertoire. Based on a systematic and stable production system, KNCDC works with talented Korean choreographers and artists and enriches its programs further by inviting internationally acclaimed choreographers and pursuing other international collaboration. KNCDC enhances its artistic prowess further by offering an environment for the creation of new works to enrich the repertoire with artistically exciting, diverse and unique pieces.
About AHN, Sung Soo – Artistic Director, Korea National Contemporary Dance Company
Ahn, Sung Soo utilises a genre-encompassing approach in his creation, with elements from Korean traditional dance, ballet, hip hop, contemporary dance and elsewhere. Identifying and separating characteristics of each type of dance, he breaks them down and uses the core elements to reconstruct, building each new work with its own visual aesthetic, systematic structure and musical interpretation. He also seeks to build on the diverse qualification of the Korean dancers with the delicate interpretation, outstanding musicality, unique texture and versatile technique earned through their body neutralisation training. Under his artistic leadership, KNCDC aims to introduce the vibrant originality and excellence of Korean contemporary dance to the worldwide dance stage.
FOR THE CURIOUS
Wed 9 Mar Stay after the show for a Q&A with the artists.
Age recommendation: 8+
Times: 7.30pm
Venue: at The Place
Sat 12 May: Double Bill: Kyoung-Shin Kim – Ordinary Stranger / Ahn Sooyoung Company – Swan Lake
KR + UK: Kyoung-Shin Kim + Saju Hari + Dickson Mbi
Ordinary Stranger
In Kyoung-Shin Kim's Ordinary Stranger three performers meet on stage and share memories of their different backgrounds and cultures through intense movement. A whole new story emerges as personal narratives evolve and combine to create a shared moment in the present.
Concept & Choreography  Kyoung-Shin Kim
Dramaturg Chang
Choreography in Collaboration & Dance Kyoung-Shin Kim, Dickson Mbi, Saju Hari
Music Eric Linder
Lighting Design Chol-hee Kim
Relighting Lucy Hansom
Costume In-sook Choi
Photo Woon-shik Lee
Video Joon-ho Uhm, Artstrust Productions
Management, Administration Jisoo Gook
UK Producer Martin Collins
About Kyoung-Shin Kim
The movement style of Kyoung-Shin Kim is highly subjective in expressing the meaning of choreography, but the shape and texture of his movements are sufficient to form rapport with the audience. His choreography focuses on simplifying various ideas on the theme, and has the advantage of embodying the process.
About Saju Hari
Saju Hari's starting point in movement was south Indian martials arts Kalarippayattu. His choreography and movement style incorporates the attack of martial arts and the tenderness and complexity of contemporary dance and south Asian dance forms.
About Dickson Mbi
As an artist, choreographer and dancer, Dickson Mbi is an amalgamation of strength and raw spirit but yet elegant and vulnerable in the delivery of his work.
---
Ahn Sooyoung Company
Swan Lake
Hip-hop, popping, breaking and contemporary dance are driven by Tchaikovsky's powerful score in Ahn Sooyoung's re-imagining of the ballet masterpiece. Focusing on the plight of the tormented swans whose environments are threatened by modern society this unique adaptation is like no other before.  Ahn Soo Young's Swan Lake received the Grand Prix at the 2012 Seoul International Choreography Festival.
About Sooyoung Ahn
Sooyoung Ahn began dancing in 1997 as a street dancer, and after attending the dance programs at Hansung University and Sejong University, he made his debut in 2007 as a contemporary dance choreographer with his piece Choice of Eve. In 2011, Ahn presented his work Swan Lake, which received the Grand Prix at the 2012 Seoul International Choreography Festival.
The Ahn Sooyoung Company has been actively performing in Korea as well as abroad, and was selected by forty critics to be featured in Germany's Dance for You Magazine. Ahn's dancing has been reviewed to be "delectable", "exciting", and "refreshing", and Ahn has thus coined the nickname of Charlie Chaplin in the Korean dance scene.
Wed 16 May: Double Bill: Jin Yeob Cha X Vakki – riverrun: interface of the unstable body / Lyon Eun Kwon – Glory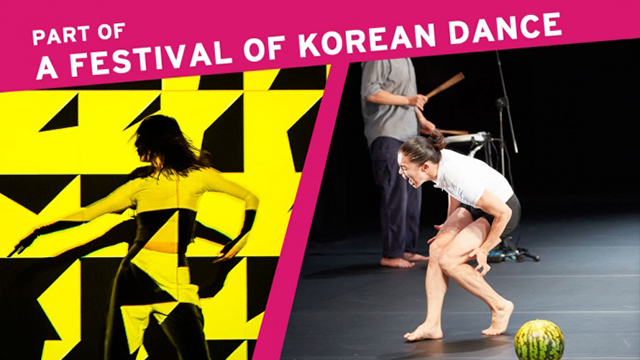 Jin Yeob Cha X Vakki – riverrun: interface of the unstable body
The first word from James Joyce's notoriously difficult avant-garde novel Finnegan's Wake provides the title for dance and choreographer Jin Yeob Cha's spectacular solo. Against a psychedelic backdrop created by visual artist Vakki, Jin Yeob Cha explores new function and meaning through dynamic movements in this multi-dimensional performance.
Choreographed & Performed by Jin Yeob Cha
Visual Art Vakki
Sound Moon Yirang
Light Design Ik-Hyun Kim
Stage Manager Do-Yup Lee
About Jin Yeob Cha
Jin Yeob Cha is the artistic director of Collective A. Cha has worked with many international companies including Hofesh Shechter Company (UK), Galili Dance Company (Netherlands) and English National Opera productions (UK).
She received numerous awards, including 2014 Young Artist of the Year Award : Minister of Culture & Arts Merit Awards from the Ministry of Culture, Sports and Tourism. She was commissioned as a choreography director of the PyeongChang 2018 Olympic Winter Games, choreographing the opening and closing ceremonies.
About Vakki
Vakki is an artist who explores various media ranging from graphic design, kinetic installation, video, to interactive media. She geometrically interprets the process of moving and creates objects in a given orbit, questioning the cycle of existence through kinetic work with graphics and motility.
---
Lyon Eun Kwon – Glory
In South Korea exceptional male dancers who win the illustrious Dong-A Dance Competition are rewarded with exemption from mandatory military service. Using humorous dance theatre award-winning choreographer Lyon Eun Kwon, draws on the male performer's personal experience and connects two connotations of glory – the one known through serving your country verses the one obtained through avoiding military service by winning a competition.
Choreography : Lyon Eun KWON
Dramaturg: Jae Lee KIM
Performer: Namkeun AN, Jimmy SERT, Sun Joo KIM, Sangcheul LEE
Sound: Jimmy SERT
Lighting: Sunghee YU
About Lyon Eun Kwon
Lyon Eun Kwon, is a choreographer and dancer based in Seoul, Korea. She won The French Embassy Prize for Young Choreographer for The Skill for me at the 2014 Yokohama Dance Collection EX in Japan. Homo Knitiens was presented as a showcase format at Centre National de la Danse Paris and invited to Dance Cross, Yokohama and Seoul Performing Arts Festival (SPAF). Her latest piece Glory won the Third Prize and the Audience Prize Special Mention at the Danse Élargie in Paris, 2016.
Source: https://www.theplace.org.uk/whats-on/collections/festival-korean-dance