Restaurant Tour 15: Asadal Korean Restaurant in Holborn

Situated under the same roof as the Holborn station in central London, Asadal's 120 spacious seats are always filled with Londoners, predominantly business people working in City. Holborn, in the heart of the business sector of London, is easy to find, with the Picadilly and Central Tube lines running through the station. In effect, Asadal is a favourite of those that run the economy of London.
Asadal first opened in 1991, making it the first Korean restaurant in New Malden, South London – an area now known as 'Korea town'. With Asadal's lead in the race to promote Korean food and culture, more and more Korean restaurants began to situate in 'Korea Town'. Asadal relocated to its current location in 2005.
It is rare to see any restaurant of Asadal's size in the heart of Central London, regardless of cuisine. Asadal caters for some 120 seats, yet it is spacious and comfortable thanks to the consideration of the management for the privacy of the customers, as most hold business meetings at the location. Asadal captures the elegance of Korean cuisine with the aid of Korean traditional interior designs and dimmed lights to create that sophisticated air, attracting not only the customers but also the attention of broadsheets such as The Times and The Telegraph. These papers actively reported Korean food in 2005 and this was triggered by Asadal's taste and atmosphere becoming a favourite for many Londoners, and indeed many journalists. Asadal now stands firm as a prime meeting place for many London economists, solicitors and accountants.
As 95% of the customers are Londoners, whilst maintaining the unique Korean traditional taste, Asadal has altered some tastes to suit the British tastebuds. The most popular Galbi-jjim (stewed beef ribs) was been made to be so tender that it can break apart with a single touch and the Bibimbab (rice with mixed vegetables) sauce made from the health food Dwenjang (fermented soy bean) is an Asadal speciality developed to make Korean food more approachable for all. Under the careful supervision of the owner, with 30 years experience in Korean food, Asadal has managed to please both the Korean and non-Korean customers.
Asadal acts also as an assembly point for Korean adopted person's society. The owner Mr. Hwa Chul Park is also the Chairman of the London Korean adopted person's society. He has held monthly gatherings for the society for over ten years, and the group have celebrated each individual's birthdays and weddings together too. The association members now think Mr. Park and his wife as their own parents, calling them 'Abuhji' (father) and 'Uhmuhni' (mother).

Tea with Asadal's owner, Mr.Park Hwa Chul
Q. What does the London Korean adopted person's association mean to you?
A. I have been the chairman of the association for over 10 years. I felt that they needed someone to speak to. I hold monthly meetings and we also celebrate birthdays and weddings. We often come together and I teach them how to cook Korean food. I have no intention of enforcing Korean culture to them. I listen to what they wish to share, and that is all that I can do. They are now a part of my life.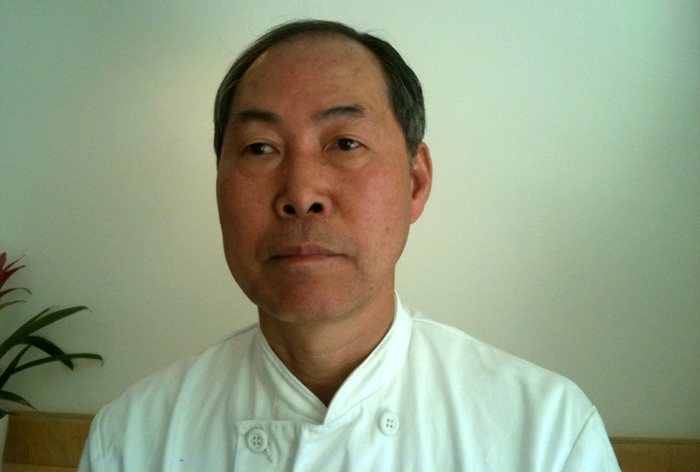 Q. Were there any difficulties until opening Asadal at the Holborn site?
A. The first Asadal was in South London, and this Holborn site opened in July 2005. I personally completed the interior work over several months before the opening date; however the second day of opening saw the 7/7 terrorist attacks in London which resulted in 52 fatalities and 700 injured, and the subsequent shutdown of all neighbouring stations. I recall that more people were concerned with the future of the restaurant than congratulating the grand opening.
Q. How did Asadal grab the interest of British broadsheets?
A. Asadal's most popular dish includes Bibimbap (rice with mixed vegetables), Galbi (beef rib stew) and Bulgogi (marinated and grilled beef). Our Galbi is a healthy dish, made with ingredients such as ginseng, chestnuts, ginkgo nuts and dates. One day a British customer asked that I explain all the ingredients and how they are good for the health of the body. All my English speaking waiters were occupied at the time, so I used all means, including hands and feet to explain each ingredient. It turned out that he was a columnist of a renowned British broadsheet. In essence, I had mimed my way into the globalisation of Korean food.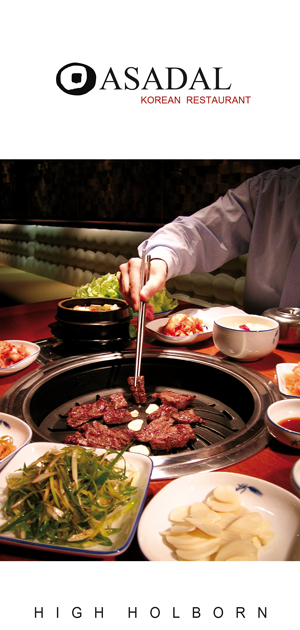 Asadal popular menu
Yukwhae bibimbap (rice with mixed vegetables and raw beef)
Youngyang galbi-jjim (healthy beef stew)
Bulgogi (marinated and grilled shredded beef)
Address
227 High Holborn London WC1V 7DA
Underground: Holborn Station
Telephone Number
020 7430 9005-6
Opening times
LUNCH
Monday – Saturday 12:00 PM to 3:00 PM
Sunday closed
DINNER
Monday – Saturday 6:00 PM to 11:00 PM
Sunday 6:00 PM to 10:30 PM
Reported by Bada Kim (bada@theeast.org)