A journey into the fabled world of Japanese running with Adharanand Finn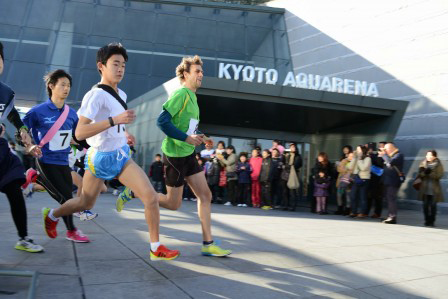 With viewers in their millions watching marathon relay ekiden, and with the most developed and lucrative league in the world, long distance running in Japan is a serious business. Big companies such as Honda, Konica Minolta and Toyota keep teams of road-runners who live and train together and compete in races, and further down the ladder, amateurs and students regularly clock professional times.
In 2013, only six of the hundred fastest marathon runners in the world were not from Africa; five of those six were from Japan. And in the women's marathon, eleven of the top hundred runners in 2013 were from Japan – the third highest number after Kenya and Ethiopia by some margin.
Having spent six months with Kenyan athletes in 2011, Adharanand Finn turned to Japan's obsession with running to discover what it could do for his own style and performance. To mark the publication of his The Way of the Runner: A journey into the fabled world of Japanese running, the Japan Society is delighted to be holding a talk by the author in which he will introduce us to the complex and contradictory world of Japanese running. He will be joined in conversation by British Olympic marathon runner Mara Yamauchi, and this will be followed by an open Q&A.
Adharanand Finn is the author of Running with the Kenyans, which was the Sunday Times Sports Book of the Year, won Best New Writer at the British Sports Book Awards, and shortlisted for the William Hill Sports Book Award. He is an editor at the Guardian and a freelance journalist. He is also a former junior cross-country runner and now competes for Torbay AC in Devon, where he and his family usually live. Follow him on @adharanand.
Mara Yamauchi is a former elite British marathon runner and diplomat. A two-time Olympian, she is the second fastest British marathon runner ever. She grew up in Kenya, and has lived in Japan for many years as a diplomat and professional athlete. Mara finished 6th in the 2008 Beijing Olympic marathon – the best performance ever by a British woman in this event – and was runner-up in the 2009 London marathon. She also competed for Team GB at the 2012 London Olympics. In January 2013 Mara announced her retirement from elite competition. She is now working as a freelance coach, speaker and writer, and continues to run for enjoyment and to stay healthy. Mara lives in London with her Japanese husband, Shigetoshi.
Date: Wednesday 29 April 2015, 6.45pm
Venue: The Swedenborg Society, 20-21 Bloomsbury Way, London WC1A 2TH