A Message from Tohoku: Lunchtime talk with exhibition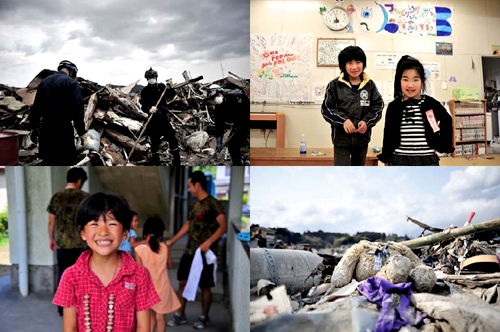 Date: 21 November 2011 – 22 November 2011
Venue: The Japan Foundation, Russell Square House, 10-12 Russell Square, London, WC1B 5EH
The Japan Foundation hosts a talk by Satoshi Ueda, a young man with a very personal connection to the 3.11 disaster in Tohoku. Although he himself was in Tokyo when the earthquake hit, his hometown of Rikuzen-takata was devastated, and sadly he was to lose his mother that day.
Since the disaster, however, Ueda has been involved in the project "Tears of the Earth", and has returned to Rikuzen-takata, where the world's gaze was drawn in March, owing to the catastrophic destruction and innumerable victims there. It was all-but destroyed by the tsunami which followed the earthquake, but Ueda has been taking photos of the survivors, and the places he loves. Wanting to show the strength of the people of Tohoku and their indomitable capacity for hope, Ueda also believes it important not to forget the scenes of 3.11, and to learn from the disaster if at all possible.
This lunchtime talk will be accompanied by a two-day exhibition from the 21st to the 22nd of November, displaying a small collection of work, for a limited time, demonstrating the situation for the real people in the devastated area, as well as the voice of a man capturing the "now" with his uniquely personal touch.