A New Asia? Politics, Society and Culture in the 21st Century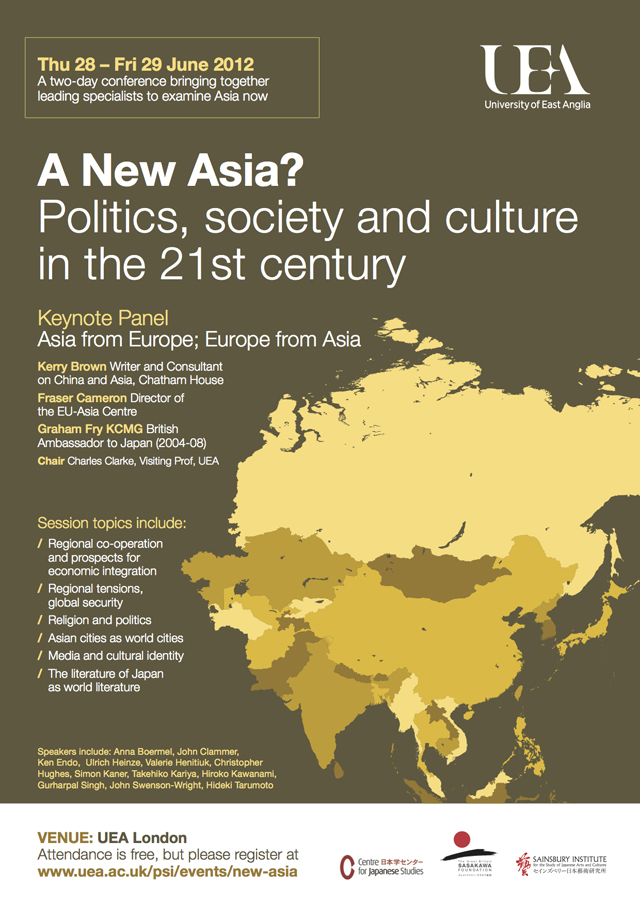 A New Asia? Politics, Society & Culture in the 21st Century
How is Asia changing? What are the consequences of the new power balance within Asia and beyond? How are the major powers in the region responding to demographic and other social changes? What has been the cultural impact of Asia's rise? This conference brings together leading specialists to examine Asia's place in the world from a variety of disciplinary perspectives. It looks at the changing regional balance in Asia, the prospects for economic integration, and issues of security, old and new. It explores societal and cultural identity in key Asian states, all of which have important external implications. Is there a new politics of cultural identity, and what role does the media play? How have China and Japan responded to changes in the size and composition of their populations? Is there a new politics of religious diversity in India? Is Asian literature world literature?
Keynote Panel – Asia from Europe; Europe from Asia
Kerry Brown Writer and Consultant on China and Asia, Chatham House
Fraser Cameron Director of the EU-Asia Centre, former British diplomat and EU official
Sir Graham Fry KCMG British Ambassador to Japan (2004-08)
Chair: the Rt Hon Charles Clarke Visiting Prof, UEA
Speakers include:
• Anna Boermel
• Professor John Clammer, Sophia University, Tokyo
• Dr Ken Endo, Hokkaido University
• Dr Ulrich Heinze, UEA
• Dr Valerie Henitiuk, UEA
• Professor Christopher Hughes, LSE
• Dr Simon Kaner, UEA
• Professor Takehiko Kariya, University of Oxford
• Dr Hiroko Kawanami, University of Lancaster
• Professor Gurharpal Singh, SOAS
• Dr John Swenson-Wright, University of Cambridge
• Dr Hideki Tarumoto, Hokkaido University
Admission Free
To register your place at the conference, please e-mail politicsevents@uea.ac.uk with your name, affiliation and contact details. Attendance at the conference is free, but places are limited and need to be confirmed in advance. REGISTER HERE
Registration Deadline: Friday 14th June 2012
The conference is convened by Professor Hussein Kassim, School of Political, Social and International Studies, UEA, Ms Mami Mizutori, Executive Director, Sainsbury Institute for the Study of Japanese Arts and Cultures, UEA, and Dr Simon Kaner, Director, Centre for Japanese Studies, UEA.
We are grateful to the Great Britain Sasakawa Foundation for their support for this conference.
Date: 28, 29 June 2012
Venue: UEA London, 102 Middlesex Street, London E1 7EZ UK
Tel: 020 70590 4400
Email: politicsevents@uea.ac.uk
Web: http://www.uea.ac.uk/psi/events/new-asia
Organiser: UEA