A Short Introduction to R. H. Blyth – Professor Kuniyoshi Ueda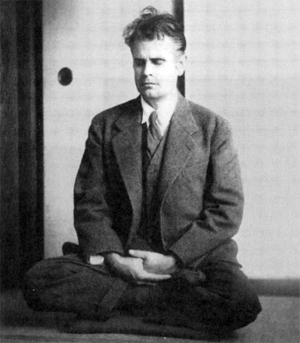 The Japan Society and the Japan Foundation are delighted to welcome Professor Kuniyoshi Ueda to discuss the life and work of R.H. Blyth.
Blyth is best known for introducing Japanese haiku (Haiku, 4 Vols. and History of Haiku, 2 Vols.) and Zen to the West. Born in Essex in 1898, he served time as a conscientious objector during the First World War, then moved to Japanese occupied Korea. Blyth became absorbed in D.T. Suzuki's Essays in Zen Buddhism, which in turn led him to move to Suzuki's hometown of Kanazawa. During the Second World War he published Zen in English Literature while he was kept in an internment camp in Kobe. On release, Blyth played an important liaison role during the American occupation and taught English at a number of Tokyo universities, living assiduously as a Zen man and pacifist until his death in 1964.
Professor Ueda, author of the book Thank you, Professor Blyth, availing himself of all Blyth's writings and nine years of lectures at Tokyo University of Education, will explore the life and loves of this cultural giant. Ueda will introduce many of Blyth's anecdotes and explain how Blyth inspired him to adapt Shakespeare into English Noh plays. He will also discuss Blyth's personal heroes; Basho, Bach, and American Henry David Thoreau, delving into their works and personal philosophies.
Kuniyoshi Ueda (né Munakata) was born in 1934 and studied with R.H. Blyth and Manzaburo Umewaka (Noh master) in Tokyo. He was a Fulbright scholar at Harvard University from 1973 – 75. Continuing in the spirit of his British mentor, Ueda established the International Society for Harmony and Combination of Cultures (ISHCC) in 2000. He completed the world's first Shakespearean Noh play, Noh Hamlet in English, performing himself as shite (lead role) in 1982 in Tokyo. His Noh productions in Japanese include Thomas Becket, Double Nora, King Lear and Potomac Cherry.
Date: Thursday 10 October 2013, 6.30pm
Venue: The Japan Foundation, Russell Square House, 10-12 Russell Square, London WC1B 5EH