A Swordsman in the Twilight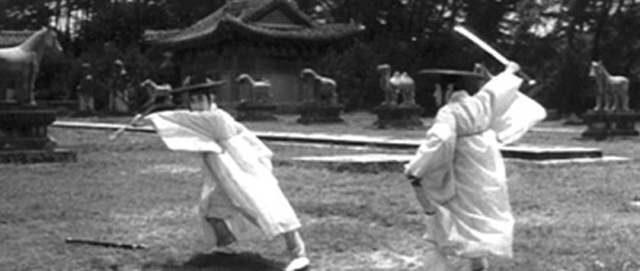 A mysterious swordsman wanders into town. He saves a girl from abduction by brutal policemen. One of them recognises him and runs to the local government compound to give warning: Kim Dae-won has returned, no doubt seeking vengeance. Kim attacks the compound, killing or capturing all the police, and takes the county governor hostage. As the night wears on, he gradually unfolds his story to the bound hostages. He and his family became collateral damage in the political and social strife caused by Jang Hui-bin and her allies. He now awaits the arrival of the ruthless Jang family ally, O Ki-ryeong, the man who plotted the destruction of his loving wife and little girl. They meet in a deadly showdown. Kim Dae-won wanders back out of town.
By Mark Morris
Film info
1967. Directed by Chung Chang-wha, starring Nam Goong Won, Yoon Jung-hee, Heo Jang-kang, Park Am, 105 mins.
Regent Street Cinema, 14 Nov 15 3:30 pm