Across the Three Pagodas Pass- The Story of the Thai-Burma Railway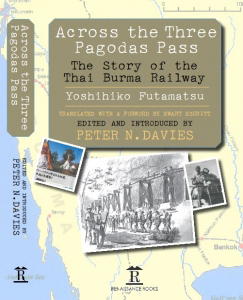 This is a translation of the only known detailed account of the building of the notorious 262-mile long Thai-Burma Railway by one of the Japanese professional engineers who was involved in its construction. The author, Yoshihiko Futamatsu, provides an invaluable new source of historical and technical reference that complements the existing large body of literature in English on this subject. Futamatsu's memoir also includes wide-ranging reflections on the course and conduct of 'his' war as well as his engineering and army experiences.
The Thai-Burma Railway took eighteen months to build and cost the lives of some 90,000 people (mostly British, Australian, Dutch and American POWs, as well as great numbers of local labourers) out of a total of over 200,000, including some 12-15,000 Japanese who were engaged in the enterprise. The 'Three Pagodas Pass' was located at the Thai-Burma frontier.
Across the Three Pagodas Pass is edited and introduced by Peter N. Davies who provides the back story to the publication of this book and the key people involved. This is followed by translator Ewart Escritt's original introduction to his translation of Futamatsu's memoir, which also includes a detailed account of his own POW experiences as well as his reflections on the war and its outcomes. Many contemporary original drawings, maps and photographs appear in the plate section.
Date: 16 October 2014, 6:00pm
Venue: Daiwa Foundation Japan House, 13/14 Cornwall Terrace, Outer Circle, London NW1 4QP
Tel: 020 7486 4348
Email: office@dajf.org.uk
Web: http://www.dajf.org.uk
Organiser: The Daiwa Anglo-Japanese Foundation