Acting Out of Nothingness: from the APT Collection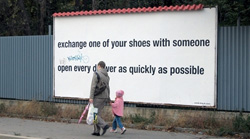 Coinciding with the 2013 Frieze London Art Fair in neighbouring Regent's Park, the Daiwa Anglo-Japanese Foundation and the APT Institute are pleased to present the group exhibition Acting Out of Nothingness featuring the contemporary Japanese artists Kanako Sasaki, Koki Tanaka, Zon Ito, Goro Murayama, Motohiro Tomii, Masahiro Wada and Lyota Yagi. The exhibition will display artworks lent by the APT Institute from the Artist Pension Trust (APT) collection, the largest contemporary lending library worldwide.
Acting Out of Nothingness unites individual views through the lens of a shared interest in the everyday. Driven by ideas resonant to Japanese culture, the artworks explore and unearth hidden codes, which are often overlooked, in an apparently systematic and homogenised society. Challenging traditional perceptions, the exhibition layers new rhythms of individuality over the measured cadence of the artists' collective backgrounds.
Date: 17 September – 20 October 2013
Venue: Daiwa Foundation Japan House, 13/14 Cornwall Terrace, London NW1 4QP UK
Tel: 020 7486 4348
Fax: 020 7486 2914
Email: events@dajf.org.uk
Web: www.dajf.org.uk
Organiser: Daiwa Anglo-Japanese Foundation