After Hiroshima Show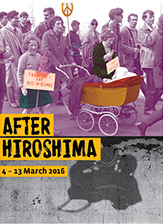 After Hiroshima, the latest production from London Bubble Theatre Company, uses personal testimony, physical theatre and the combined skills of a large cast of contemporary Londoners to explore UK's response to the biggest single turning point in modern history – the dropping of the first atomic bomb on Japan.
70 years ago, something very significant happened at the other side of the world but it took a long time for people in the UK to receive any information about 'the bomb'. As the details emerged and people learnt about nuclear weapons, a response followed with the birth of the nuclear peace movement and the formation of CND. 70 years on, not much has changed by way of how information is shared on such matters, as is evident with the way the Trident debate is being played by media and politicians alike. After Hiroshima attempts to nurture and celebrate some of the stories that get buried in the vastness of such events.
Over the last year, members of London Bubble Theatre have gathered stories from people who have memories of this period, including campaigners, policy advisors and artists. These stories form a lively telling of what happened in the UK post the events of Hiroshima. Performed at Dilston Grove in Southwark Park, the intergenerational conversations are beautifully animated by a cast of ages 7 – 80 years and include a choir.
After Hiroshima is directed by Jonathan Petherbridge, written by Sarah Woods and designed by Pip Nash. Jonathan Petherbridge's participatory performance work includes the much acclaimed Gilgamesh and more recently 'Blackbirds' and From Docks to Desktops'.
Date: 4 – 6 and 11- 13 March 2016
Venue: Dilston Grove, Aspinden Rd, London SE16 2DD
E-mail: ruth@londonbubble.org.uk
Tel: 0207 237 4434
Web: http://londonbubble.org.uk
Organiser: London Bubble Theatre Company