AJSW Annual Christmas Concert at Bristol Cathedral presented by International Concert Pianist Yuki Negishi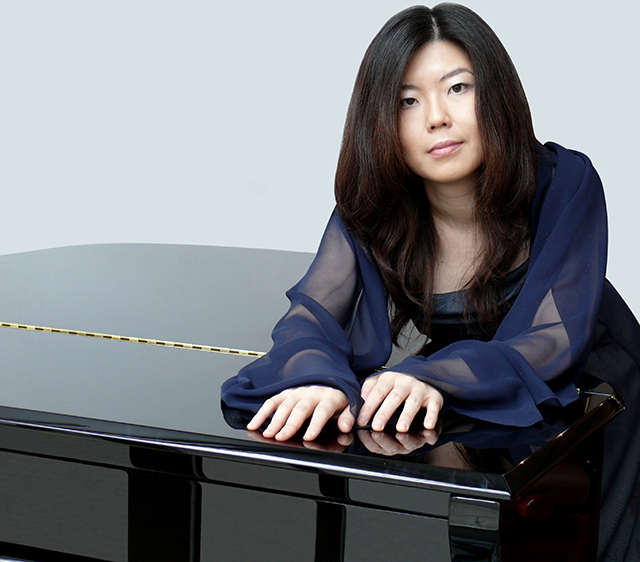 Programme:
C. Debussy Children's Corner:
1) Doctor Gradus ad Parnassum
2) Jimbo's Lullaby
3) Serenade for the Doll
4) The Snow is Dancing
5) The Little Shepherd
6) Gollywoggs' Cakewalk
F. Chopin:- Nocturne in C sharp minor: First published 26 years after the composer's
death this piece was discovered in a private collection. It was featured in the film 'The Pianist'.
Rachmaninoff Moments Musicaux No.3 & 4:
a) Moment Musical B minor op 16 No 3
b) Moment Musical No.4 in E minor
Cranham (arr Jenifer Cook ):- In The Bleak Mid-Winter
S. Prokofiev: Troika (from Lieutenant Kije)
Kapustin: Two Preludes Op.53 No.5 and No.8
Artist info:
"–Yuki Negishi's performance of Mozart's limpid, gently melancholy Piano Concerto no. 23 was a dream throughout, with moderate tempi and beautifully nuanced phrasing- this was exceptional Mozart playing.The orchestra provided a steady accompaniment and at times, as in the last section of Adagio, were inspired to playing that responded fully to the poignant simplicity displayed by their soloist."
Ken Ward, Ealing Symphony Orchestra May 2012
"…The soloist, Yuki Negishi proved to be more than equal to this very demanding concerto (Brahms 2nd). The audience loved her seemingly effortless technique and faultless memory. Indeed their applause was such that Yuki was persuaded to play the Db Chopin Nocturne as an encore. A uniquely memorable evening!"
Frank James, Scarborough Symphony Orchestra May 2011
Blüthner artist Yuki Negishi is establishing herself as an artist of rare poetry, intensity and virtuosity with a vast repertoire and a magnetic personality. Yuki has already performed in over 250 concerts in the UK where she has resided since 2001, and she regularly performs about 30 concerts a year internationally. Her engagements with orchestra have included the Brahms 2nd Piano Concerto with the Scarborough Symphony Orchestra/Shaun Matthew, Rachmaninoff's 2nd Piano Concerto with the New London Sinfonia/David Gibson and the North London Sinfonia/Owen Leech, Poulenc's Concerto for Two
Pianos and Orchestra with the Worthing Symphony Orchestra/John Gibbons, Mozart's Piano Concerto K.488 with the Ealing Symphony Orchestra/John Gibbons, and numerous other concertos including Beethoven's "Emperor", Ravel and Chopin. She has given recitals across the UK (Southbank Centre, Royal Opera House Linbury Studio, Leeds International Concert Series, D&G International Musicians' Platform, St George's Bristol, St James's Piccadilly, Blackheath Halls, Steinway Hall, the Bluthner Lansdowne Club series, etc.) the Netherlands (Concertgebouw), France, Germany, Italy (Festival di Londra), Romania, Japan and the USA. Future engagements include numerous recitals across the UK and Europe. Her performances have been broadcast on BBC Radio 3, Channel 4, Dutch, Polish, Romanian and French television and radio.
Born in Tokyo, Japan, Yuki Negishi started playing the piano at the age of 5 in New York City. At the age of 10, she was accepted to The Juilliard School Pre-College Division as an honorary scholarship student. Yuki has since worked with such eminent figures as the late Takahiro Sonoda, Christian Zacharias, the late Irina Zaritskaya, Dominique Merlet, Dr Peter Katin and Murray Perahia at the Toho Gakuen School of Music, Amsterdam Conservatory and the Royal College of Music where she obtained her Masters in Music degree and Artist Diploma. At the age of 16, she was the youngest prize-winner at the Takahiro Sonoda Piano Competition and she was awarded the 2nd prize at the 2000 International Jeunesses Musicales Competition in Bucharest. Since coming to the UK in 2001, she has additionally won no less than 10 coveted prizes at the RCM and elsewhere.
Yuki is also a keen chamber musician, and has collaborated with members of the Royal Philharmonic Orchestra, Japan Philharmonic, the Zurich Tonhalle Orchestra, the Royal Concertgebouw Orchestra, and regularly performs with the award-winning London Myriad Ensemble.
Yuki has released a solo CD, and also a DVD from Sound Techniques (www.soundtechniques.co.uk) in conversation with BBC presenter Andrew Green. She also served as one of the jury members for the 2010, 2013, and 2015 Sussex International Piano Competition consecutively since its inauguration, alongside such distinguished pianists as Artur Pizarro (Leeds 1st prize 1990), Vanessa Latarche (Royal College of Music Head of Keyboard), Ian Fountain (Royal Academy of Music Professor), Julian Jacobson (Royal College of Music Professor), Idil Biret, and George-Emmanuel Lazaridis.
Yuki was invited as a guest jury member of the Open Piano Competition (London, October 2012) and is a regular faculty member of Piano Week held in Bangor Wales since 2015, where she gives masterlasses and recitals.
Date: Tue Dec 15th 2015, 1:15–2:00 pm
Venue: Bristol Cathedral, College Green, Bristol, BS1 5TJ
Tel: 020 72374445
Email: godfreyking316@btinternet.com
Web: www.ajsw.org.uk
Organiser: Anglo-Japanese Society of Wessex