AJSW Chamber Music Ensemble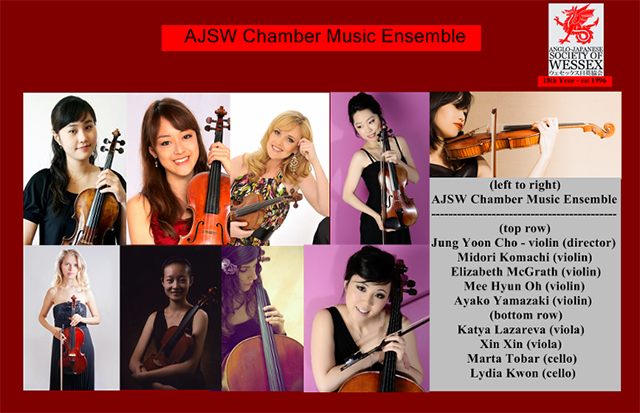 Programme:
Mozart: Eine Kleine Nachtmusik
Vivaldi: Allegro from 'Spring', The Four Seasons
J S Bach: Arioso (arr. Sayaka Yanagida)
Telemann: Concerto No 1 in G for 4 violins
Shimanuki: World Première:- Persephone for nine strings
Borodin: Notturno from String Quartet No 2 in D Major 3rd Movement
Tchaikovsky: Waltz from 'Serenade for Strings'
Artist info:
Jung Yoon Cho (director)
Jung Yoon Cho – violin
Midori Komachi – violin
Ayako Yamazaki – violin
Mee Hyun Oh – violin
Elizabeth McGrath – violin
Xin Xin – viola
Marta Tobar – cello
Lydia Kwon – cello
The 'AJSW Chamber Music Ensemble' in another concert displaying its international array of talented musicians performing a delightful selection of classical works for strings following on from the success of its London debut on May 31st 2013 at St James, Piccadilly. Japanese composer Michiko Shimanuki has composed a piece especially for the ensemble which will have its world premier during the concert.
The 'AJSW Chamber Ensemble' originated at the society '15th Anniversary' concert at St George's, Bristol on November 10th 2011. Some of its recordings can be heard on our Home Page presentation. It integrates Japanese musicians with musicians from all over the world, it is ably led and directed by violinist Jung Yoon Cho. Its London debut was on May 31st 2013 St James, Piccadilly for an evening concert with 'our 'Inzpir8tion' (8 hands on 2 pianos) group.
It is helping spread the message of the AJSW and its established place in the world of Anglo-Japanese cultural friendship and understanding.
Date: Thu Feb 20th 2014, 1:00–2:00 pm
Venue: St George's Bristol, Great George Street, Off Park Street, Bristol BS1 5RR
Tel: 020 72374445
Email: godfreyking316@btinternet.com
Web: www.ajsw.org.uk
Organiser: Anglo-Japanese Society of Wessex