An Evening of Japanese Folk Music : Erika Shimada and Osamu Yano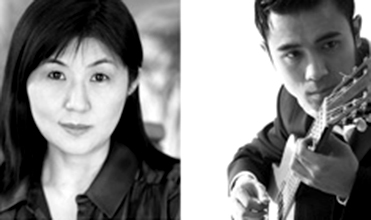 Erika Shimada graduated from Musashino Academia of Music in Tokyo before moving to the UK to complete her postgraduate course at the Trinity College of Music. She has made numerous TV and radio appearances on Channel 4 & Radio 3 as well as in Japan. She performs as a soprano throughout Europe and Japan, and her powerful and dramatic voice has received widespread critical acclaims. She was awarded first prize at the Hanslow festival, and was awarded the Bellini International Voice competition, and the Alcamo Music Festival in Italy. She has sung a wide variety of opera roles in many prestigious venues such as The Royal Albert Hall, the Theatre Basel, the Manchester Opera House, Holland Park Opera. She has sung the roles of Mimi (La Bohéme), Liu (Turandot), Cio-Cio san (Madame Butterfly), Tatyana (Eugene Onegin) and Mulian (slippery Mountain). She is also performing regularly at festivals and as a soloist on the concert platform.
Osamu Yano is one of the most versatile guitarists of his generation. He has performed as a recitalist and session guitarist around the world. Osamu has performed on national and international radio and television, and has played live on BBC London Radio, BBC6 Music, BBC World Radio, Xfm, BBC1 Television, Channel 4 and Japan Fuji TV. His highly acclaimed performances are noted for their sensitive musicality, diversity in musical styles, versatile technique and stylish arrangement and improvisation. His compositions have featured on BBC/E4/Channel 4/Channel 5 programmes as well as in a recently released Japanese film.
Tickets: £12 on door or £10 (full price) / £8(students & JSA) in advance
Date: 5 March 2014
Venue: Brunel Museum, Railway Avenue, Rotherhithe, London SE16 4LF
Tel: 07595 154 601
Web: http://www.brunel-museum.org.uk/events/music-in-the-museum-jan-mar-2014/
Organiser: Brunel Museum