An evening of Rakugo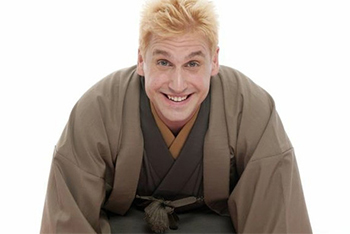 The Canadian High Commission and the Japan Society invite you to an evening of rakugo; comic storytelling from Japan with Canada's own Katsura Sunshine. We are very grateful to Clifford Chance for hosting this event.
Rakugo is an ancient form of comic storytelling in Japan, still very much alive and well, with over 700 professional storytellers practicing today in the two main traditions of storytelling, that of Tokyo 'Edo' and Osaka 'Kamigata'. Toronto-born Katsura Sunshine is the first ever Western rakugo storyteller in the history of the 'Kamigata' tradition, and the only Western professional rakugo storyteller today. A regular on Japanese television, Sunshine will be appearing at this year's Edinburgh Festival Fringe.
"Hilarious. Charming. Traditional. Universally funny and yet so very Japanese." – EFF
Sunshine Katsura studied classics at the University of Toronto, where he got his first introduction to the works of the Ancient Greek comic playwright, Aristophanes, under the renowned scholar of ancient comedy, Eric Csapo. He became involved in translating, adapting, and performing in versions of Aristophanes' comedies for the Department of Classics. On September 1st , 2008, Sunshine was accepted as an apprentice to the great Rakugo storytelling master, Katsura Bunshi VI, and subsequently received the name Katsura Sunshine. In the Rakugo tradition, he received both his master's last name and part of the first (his master, Sanshi combined the first part of his name, 'San', meaning 'Three', with the Japanese word for 'Shine', and gave it the Japanese pronunciation of the English word 'Sunshine').
Date: 29 July 2014, 6.30pm
Venue: Clifford Chance, 10 Upper Bank Street, London E14 5JJ
Tel: 020 3075 1996
Email: events@japansociety.org.uk
Web: http://www.japansociety.org.uk/34897/an-evening-of-rakugo/
Organiser: Japan Society