An Ode to Toru Takemitsu – Talk by Oliver Knussen and Maki Takemitsu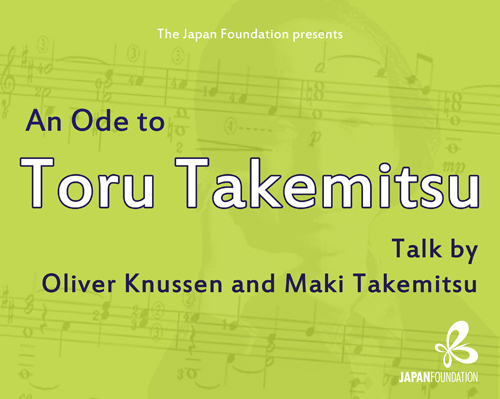 Toru Takemitsu is among the most important composers in the history of Japanese music. Almost entirely self-taught, Takemitsu went on to compose several hundred independent works and score over ninety films. The first composer to be fully recognised in the West, Takemitsu achieved international renown for his distinctive style. Combining elements of the Occident and the Orient, Takemitsu created music that was sensuous yet accessible.
In honour of this talented composer The Japan Foundation are proud to present a special talk as a prelude to NHK Symphony Orchestra's performance of Takemitsu's Requiem for Strings in March. Oliver Knussen CBE, a close friend of Takemitsu who has presided over many of Takemitsu's works himself and Maki Takemitsu, Takemitsu's daughter and music producer, will examine the significance of Takemitsu's work and share their unique experiences reflecting on his life and legacy.
This event will focus not only on the music of Toru Takemitsu but also on the life that influenced such vast and intricate musicscapes
Date: 22 January 2017 from 2.30pm
Venue: King's Place, Hall Two, 90 York Way, London, N1 9AG