An-Ting Chang (piano) with Margaret Dziekonski (violin)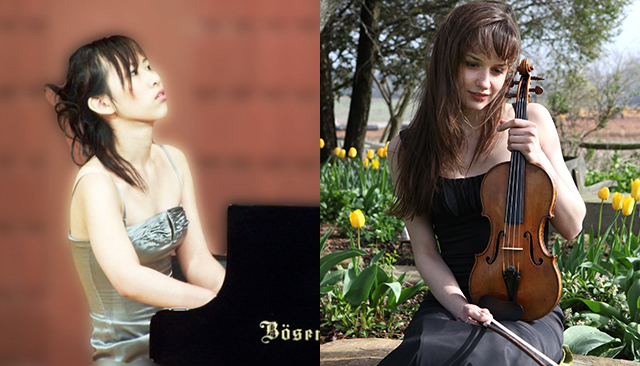 Programme:
Mozart Violin Sonata in B flat Major, KV378
I. Allegro moderato
II. Andantino sostenuto e cantabile
III. Rondeau (Allegro)
Strauss Violin Sonata in E flat Major, Op.18
I. Allegro, ma non troppo
II. Improvisation: Andante cantabile
III. Finale: Andante – Allegro
Artist info:
Margaret Dziekonski, originally from Philadelphia, USA, has performed in the United States, Australia and throughout Europe as both soloist and chamber musician. Performances in the UK include Wigmore Hall, St James' Piccadilly, St Martin in the Fields, King's Place and St Peter's Eaton Square. Chamber music festivals abroad include The Cully Classique Festival VIS-À-VIS (Switzerland), The Camilleri Festival (Malta) and The Crossroads Festival/Tour (Australia). Recent concert highlights include a performance at the Richard Strauss Institut, Germany, and a recital on the 1714 Beechback Stradivarius at the Ashmolean Museum, Oxford, as part of their 2013 Stradivarius exhibition.
Margaret completed her master's studies at the Royal Academy of Music, London, under Tomotada Soh in 2012, graduating with distinction. Her teachers also include Lee Snyder of the Settlement Music School, Philadelphia and Dr. Raymond Holden of the Royal Academy. She is currently pursuing a doctorate at the Royal Academy under Dr. Neil Heyde and Tomotada Soh. Her studies are generously supported by an Edison Visiting Fellowship for 2013/14 at the British Library, a research internship at the Royal Academy of Music, the Sir Richard Stapley Educational Trust, the Seary Charitable Trust and a private sponsor.
Margaret plays a J.B. Vuillaume, c. 1860, kindly lent to her by the Royal Academy of Music.
Different from most pianists, An-Ting Chang has a special background. Graduating from the best university in Taiwan (National Taiwan University) in 2007, majoring in Chemistry and minoring in Drama Theatre, she then obtained Master of Music, Piano, at the Royal Academy of Music (RAM), London with Maud Hornsby Award. In 2009, she received DAAD scholarship- Stüdienstipendien fur Ausländische Künstler to do advanced study (Aufbaustudium) in piano performance at the Hochschule für Musik, Franz Liszt Weimar, Germany. She is now pursuing her PhD degree (performance practice) at RAM with the support of Taiwan Ministry of Education.
Chang's concerts include performances in England, Germany, Netherlands, Belgium and Taiwan. Besides playing solo and chamber recitals, she regards concerts as creative works, and approaches them by combining her concerts with different media. Her creation of Concert Theatre was awarded the Grants for Arts from the Arts Council England in 2013 and she was featured by In Tune in BBC Radio 3 with an interview and live performance in 2012. Her current creative concert works include Concert with Multimedia: The Interpreters – A Poet's Love (Germany, Taiwan) and Concert Theatre: 4.48 Psychosis, Webern's and Gibbons Music (Sir Jack Lyons Theatre), Other People's Gardens (Arcola Theatre) and Sonata Movements (Blue Elephant Theatre). She is currently developing her new Concert Theatre projects: Tonio Kröger with Brahms', Messiaen and Schubert's Music, Die schöne Müllerin and The Rite of Spring.
Date: Tue Nov 12th 2013, 1:15–2:00 pm
Venue: Bristol Cathedral, College Green, Bristol, BS1 5TJ
Tel: 020 72374445
Email: godfreyking316@btinternet.com
Web: www.ajsw.org.uk
Organiser: Anglo-Japanese Society of Wessex