Anna Jung Seo Exhibition: her 81paces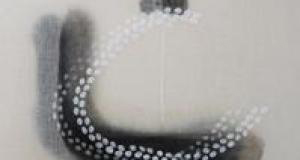 Last year, an elderly Korean lady visited her youngest daughter who lives in London as an artist. During the six weeks of her stay she mostly stayed inside her daughter's flat due to her lower back problem. In order to keep herself agile, she frequently did walking exercises through the L shape corridor in the flat as well as a few promenades outside.
Based on the mother's stay in London, the works reflect on their memories and family relationship alongside the artist's feeling towards the presence and absence of her mother. Intrigued by her mother's daily walking exercise the artist explores the meaning of repetition and accumulation through the pictorial sphere as well as her mother's life and dream. The daily 81 paces builds up the presence of her mother as if her daily endeavor has been done. This accumulated journey through the effect of scrim on cotton/linen leads to the presence of her mother.
Date: Tuesday 16th – Saturday 20th September 2014
Venue: A & D Gallery, 51 Chiltern St. London, W1U 6LY