Anna Jung Seo 'Memories through Line and Colour' at Vyner street Gallery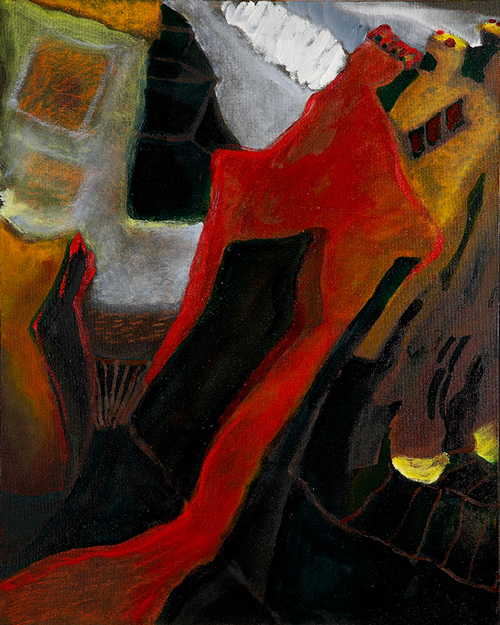 Vyner Street Gallery is proud to present the first solo show by Anna Jung Seo, Memories through Line and Colour. Anna J Seo is a London based Korean artist. The exhibition features a selection of paintings which were worked on since her graduation from City & Guilds of London Art School in 2011. She draws inspiration for this new body of works directly from the view through her window in London. These cityscapes are a powerful emotional response to the view.
In her writing to the catalogue for the show, the artist wrote "Since I moved to the top floor flat seven years ago I had a plan of painting the view from my room. The view from the 4th floor next to the terraced houses below opens up to a panoramic view of the London cityscape. The effect is dramatised by the changing weather and the light and shadow of sun and night. As soon as the bright sunlight appears, rooftops and walls momentarily tremble by the shadow. They transform from the ordinary into the sublime. Visual stimulus touches my memories which were locked in my nerve until this moment"
Houses, rooftops and buildings seem to transcend their visual existence to be donned with her own vision. In paintings they become wave, sea, island and mountain, reflecting human relationship as if people huddle together and mingle with one another. Whilst the houses, stacked and arranged one next to the other, look connected from the view above, in reality they are divided by walls and fences. These separate buildings are reconnected by shadow which crawls up and down through the movement of touching and intwining each other.
The theme of division and separation relates to the artist's painting position from the window. On the one hand a window provides protection from outside, on the other hand it relocates her in different psychological states; confined, keeping distance, alienation. It stirs a desire to leave here to get there. The window as a barrier leads a sensation of jumping out of window to join the world. A series of View-Between, which beckons in the artist, is an invitation to the outside world which she strongly misses. She follows the journey through making paintings where she revisits her fragmented memories. It encapsulates her own endeavour to understand the mysterious union of line and colour within the space and form.
For Anna J Seo, painting represents a way to resolve two contradictory tasks: being an observer as an artist, and at the same time a person connected to the world. For this same reason, the artist hopes to share through painting what she felt from the view. An insightful note from the artist reveals how the process starts: "When I see the view, I observe what I feel and I paint what I felt."
Date: 4th – 9th June 2013
Venue: Vyner Street Gallery, 23 vyner St. London E2 9DG
Web: www.vynerstreetgallery.co.uk