ArcadePerfect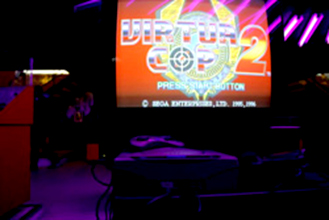 Re-live the golden years with legendary Japanese arcade games from the yesteryears on all four generation of SEGA consoles (Master System,Mega Drive/Mega-CD,Saturn,Dreamcast)….and mix it up with Japanese beer and Karaoke!
* Legendary games include,include, Street Fighter II,Marvel vs Capcom 2, Final Fight,Golden Axe,Soul Calibur,Virtua Cop 1 & 2 ,House of the Dead,Lethal Enforcers,Metal Slug, OutRun,Space Harrier,After Burner,Virtua Tennis 2,TMNT,Sunset Riders,SEGA Rally, Daytona, Ikaruga, R-Type,Zaxxon 3-D,Wonder Boy,Alien Storm,Double Dragon,Virtual-On,Virtua Racing,Virtua Fighter 2 and many more…
* RETRO Bang & Olufsen,Sony Trinitron,LG,Philips CRT TVs and a 120″ Projector screen
* 3-D gaming (80s styley!)
* 2-4-1 Cocktails and selected Food offers until 9pm
* 80s/90s KARAOKE on the SEGA Wondermega
* Anime/Gaming Cosplayers are encouraged to attend
8,16,32 and 128-BIT Japanese Retrotainment….all under an award winning cocktail bar….
Date: 17 July 2014
Venue: REZtron (Basement of The Hoxton Pony) The Hoxton Pony,104-108 Curtain Road , EC2A 3AH London
Email: info@reztron.co.uk
Web: http://www.reztron.co.uk
Organiser: REZtron