ARIRANG by Kim Ki-duk, winner of Cannes"Un Certain Regard" 2011, out in cinemas on June 8th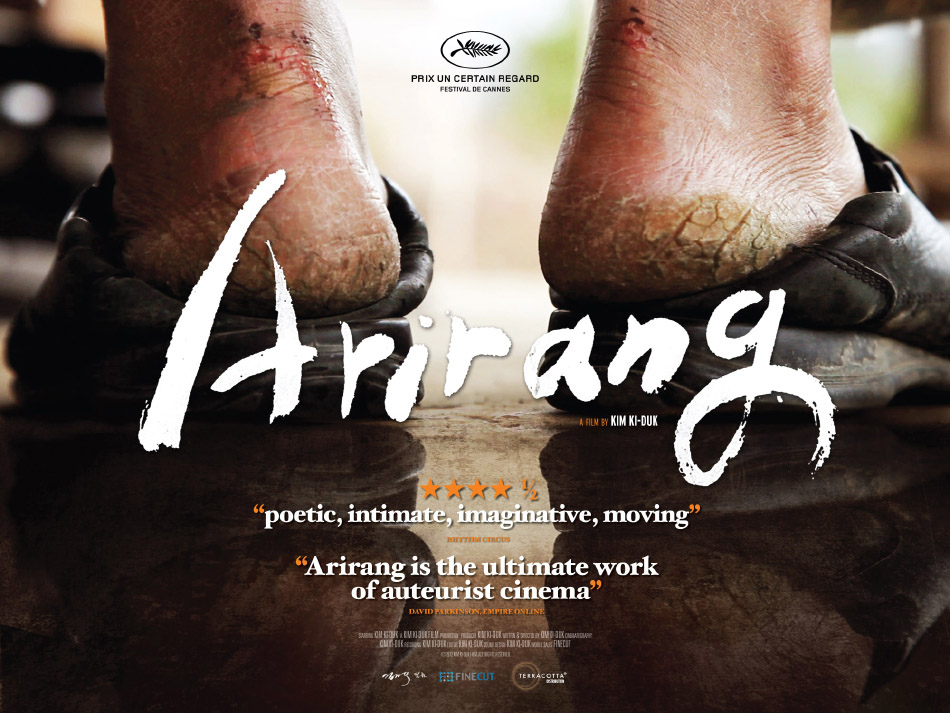 ARIRANG by acclaimed controversial Korean director Kim Ki Duk, is out in the cinema in U.K. from 8th June.
Winner of "Un Certain Regard" Award at Cannes Festival 2011, ARIRANG marks Kim Ki-duk's triumphant return to cinema after an absence of three years. ARIRANG offers audiences a unique and indiscreet look at the man regarded as one of Korea's greatest living directors.
Kim Ki-duk's long anticipated documentary about his self-imposed exile and solitude will open at The ICA and will be followed by a Kim Ki-duk season retrospective. To celebrate the release of ARIRANG, ICA will also show '3-Iron' and ' Spring, Summer, Autumn, Winter… and Spring'.
Links to ICA bookings:
http://www.ica.org.uk/33185/Film/Arirang.html
http://www.ica.org.uk/33192/Film/3-Iron.html
http://www.ica.org.uk/33197/Film/Spring-Summer-Autumn-Winter-and-Spring.html
ARIRANG will also play at Odeon Panton St and various regional sites throughout June and July.
Synopsis:
While shooting a suicide scene for his last film, DREAM, in 2008, the lead actress nearly perished and the incident triggered an emotional and creative breakdown for the director. As an act of self-administered therapy, ARIRANG takes playful liberties with the documentary form as Kim Ki-duk traces his experiences and mindset during this period of crisis.
Director KIM Ki-Duk biography:
Born in 1960. After studying art in Paris, KIM Ki-duk returned to Korea and began his career as a screenwriter. He made his directorial debut with a low-budget movie, CROCODILE, in 1996. Since then, KIM Ki-duk has been hailed by both critics and audiences for his hard-to-express characters, shocking visuals, and unprecedented messages. He continued on making internationally acclaimed films such as SAMARITAN GIRL which won the Silver Bear Award (Best Director Award) at the 54th Berlin Int'l Film Festival along with 3-IRON which won the Leone d'Argento Award (Special Award for Best Direction) at the 61st Venice Film Festival.
Selected Filmography
Crocodile (1996), The Isle (2000), Address Unknown (2001), Bad Guy (2001), The Coast Guard (2002), Spring, Summer, Fall, Winter…and Spring (2003),Samaritan Girl (2004), 3-Iron (2004), The Bow (2005), Time (2006), Breath (2007), Dream (2008).