ART by MASAKO MATSUMURA and TAKAKO HIRAYAMA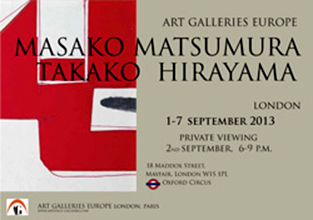 We are pleased to host for the first time in London Ms. Masako Matsumura and Ms. Takako Hirayama, artists from Osaka in Japan.
The exhibition is presented at Art Galleries Europe in Mayfair from the 1st of September till 7-th September 2013. The aesthetics of art works associates with the color as a form of life, the phenomena of the momentum, the beauty of decay…
I hope that this exhibition will allow visitors to see the beauty of Japan, its atmosphere and will present the unique Japanese way of an artistic view.
The exhibition offers the greatest pleasure to contemplate color, the form and an interpretation of nature. Ms. Masako Matsumura writes herself: "I want to express interesting things found in my daily life". Ms. Takako Hirayama says she would like "to dye a cloth with natural grass and a tree leaf".
The entry is free for the public and I believe the gallery with the art exhibition by Ms. Matsumura and Ms. Hirayama is very important stop on a map of London exhibitions.
Kasia Kujawska – Murphy
Date: 1-7 September 2013, private viewing: 2-nd September, 6-9 p.m.
Venue: Art Galleries Europe, 18, Maddox Street, Mayfair, London W1S 1PL
Tel: (0)2079932721
E-mail: Londongallery@artgallerieseurope.com
Web: http://artspace-galleries.com/
Organiser: Art Galleries Europe