Art in the Age of the Global Environment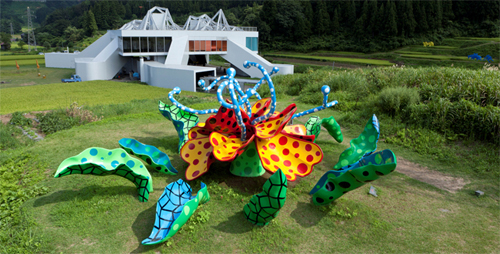 Far beyond the global conception of hyper-modern Tokyo and the consumer wonderland of 'Cool Japan', the declining local regions of Japan have, in the past two decades, seen a flowering of startlingly ambitious contemporary art festivals that offer a response to the many crises the country faces today, bringing contemporary art installations, community projects and the latest curatorial trends to the most unlikely places.
Fram Kitagawa, Director of Echigo-Tsumari Art Triennale and visionary art producer and curator, will speak about his life's work at the heart of this uniquely creative social movement, and its impact on contemporary art and society in Japan. Kitagawa will outline his socially engaged and environmentally conscious vision of contemporary art that has brought hundreds of Japanese and international artists to the mountains of Niigata and the islands of the Seto Inland Sea. He will be joined in discussion by the curator Jonathan Watkins, Director of Birmingham's IKON Gallery, who has organised many pioneering shows of Japanese contemporary art in the UK. Following the discussion there will be a Q&A chaired by Adrian Favell, SISJAC and University of Leeds.
Date: 3 December 2015 from 6.30pm
Venue: Norwich Cathedral Hostry, The Close Norwich NR1 4DH