Art Meets Design – Talk: Yuri Suzuki x Kouichi Okamoto with Alex Coles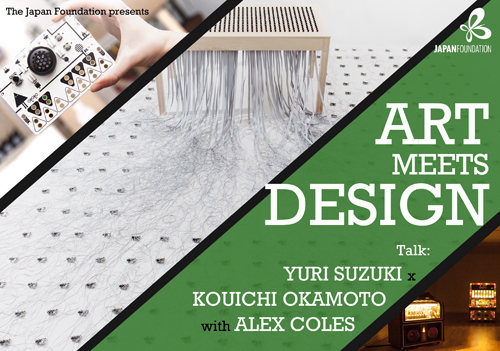 Today, the names Yuri Suzuki and Kouichi Okamoto have become synonymous as fusion artists who can freely cross the boundary between design and art. While both have worked in product design creating functional objects, each has been involved in music and sound projects and their practices have started leaning towards the pursuit of creative expression in the field of art.
Bridging the gap between the two distinct domains, their work has been displayed in a number of institutions: UK-based Suzuki has collaborated with pop artist will.i.am on Barbican show Digital Revolution and Tate Britain for the exhibition JUKE BOX Meets TATE BRITAIN, whilst Japan-based Okamoto has exhibited at the V&A London as part of London Design Week 2012 and 2014.
In this special talk, Suzuki and Okamoto, joined in conversation with Alex Coles, art critic and editor specialising in the interface between art, design and architecture, will discuss the reason behind their move beyond the design parameters of utilitarian products, reflecting on their own experiences within the creative industry. They will also expand on the differences in practice, approach and mindset between design and art, and how this unique aspect of visual arts integration will evolve in the future.
Date: 22 September 2014 from 6.30pm
Venue: The Japan Foundation, London