Restaurant Tour 22: KoBa Korean Restaurant
11 Rathbone St, London, W1T 1NA (020 7580 8825)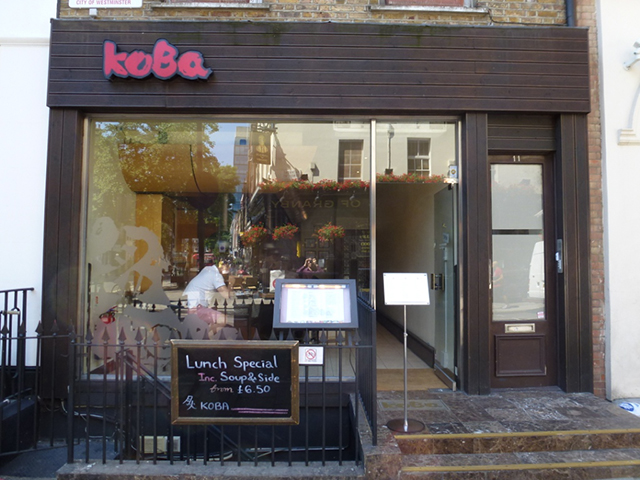 KoBa is a high-end Korean restaurant quietly tucked away in the corner of Rathbone Street, one of the best-kept secrets in Fitzrovia. Many Koreanphiles in-the-know will traverse down the street when they have a craving for some premium KBBQ. The name KoBa stands for Korean Barbecue, so the KBBQ meats are understandably its flagship specialty.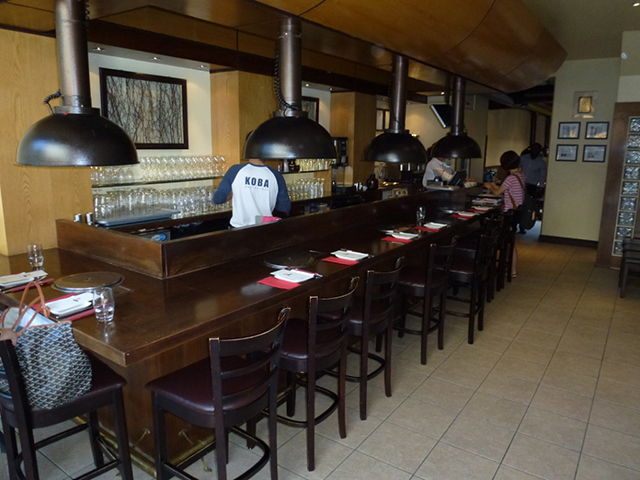 From the outside, KoBa is modest and unassuming, with darkwood oak framing a humble exterior. The first open space is the bar, with handsome, smiling bartenders serving you soju cocktails. It's for this reason that the bar is so popular with young professionals from the surrounding advertising and marketing firms. Here is where many solo diners will be sat, with one KBBQ grill between two. But walking through into the main area is akin to entering Narnia, a bright and elegant dining room with a skylight, allowing for natural rays of sunbeam to stream in during the day.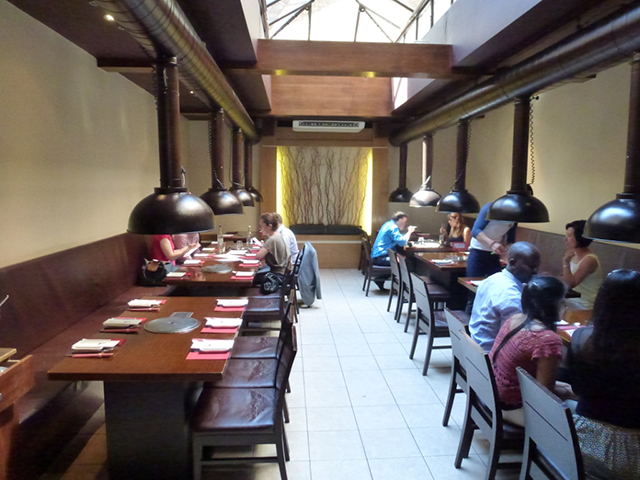 Hansik (Korean food) is famous for its multitude of banchan (side dishes), with the ordering of one main course often arriving with 3 or 4 small plates of kimchi, beansprouts, spinach, etc. In Central London (as opposed to New Malden, or Koreatown), you often have to pay for banchan at dinner, but one of the reasons why Korean lunch sets are some of the best value lunches is because they often come free with banchan, rice, and a bowl of miso soup. KBBQ is normally quite expensive here, but thankfully, KoBa is one of only two restaurants in Central London (the other being the prestigious Myung Ga) that offers it on its lunch menu, making it perfect for adventurous newcomers to the cuisine.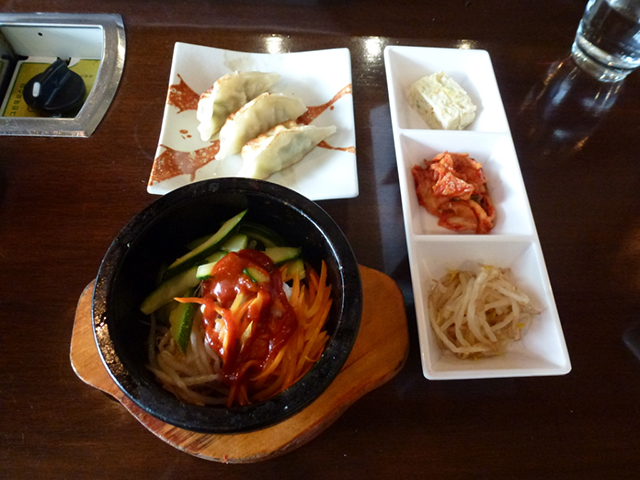 I order the £11.50 Special Lunch Barbecue including dak bulgogi (sweet and spicy chicken), and immediately the Ceremony of the Banchan-Bringing commences arriving one by one. First came the soup and the salad, common inclusions in Korean lunch menus as Koreans enjoy having a soup to start with to whet your appetite. Next came a collection of kimchi, beansprout namul and gyeran mari (Korean egg roll). On top of that there were 3 delicate mandu (dumplings), and a small bowl of dolsot bibimbap. Finally, the marinated chicken arrives on a plate, with its various dipping sauces. The food came so thick and fast that I had difficulty arranging them into photogenic formations before I could tuck in, but here is the final result with the entire lunch menu feast all together: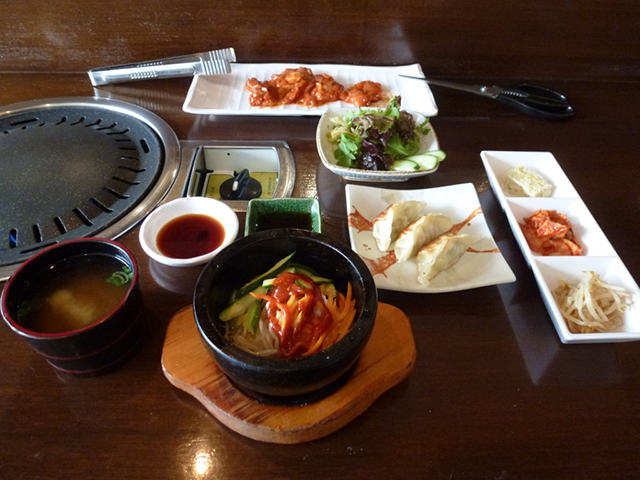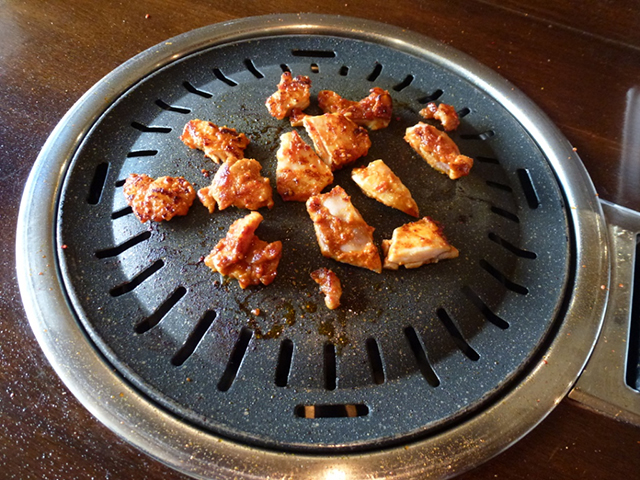 The waiter politely enquires whether I would like him to grill the meat for me, but I smile and respond that I'd prefer to do it myself. Grilling meat yourself and watching it sizzle on a hot plate is one of life's simple pleasures which every man has an entitlement to. If you're new to Korean food, I'd recommend watching and learning from the waiter's deft skill, but after the first time, give it a try yourself, as you can adjust the heat and time to your own taste, and may bring you an enormous sense of satisfaction and achievement as it does for me. KBBQ often involves the grilling of whole chunks of meat and then using scissors to cut it up right before it's ready, to retain the maximum amount of moisture so that it stays juicy and not dry before serving.
Today the serving was a beautifully butterflied boneless piece of chicken thigh: sweet, spicy and succulent to the end. The marinade tasted strongly of gochujang (Korean red chilli and bean paste), so if you're not a fan of spice then perhaps opt for the beef bulgogi instead which is sweet but not spicy. Ultimately I thought the chicken was good but not great – the texture was ripe but the taste lacked a certain oomph in the marinade, which is surprising for a restaurant that prides itself on its KBBQ meats.
The side dishes are all worth mentioning however. The mandu was delicately pan-fried and greaseless with a deep taste of umami, better than any other I've had yet in London. The miso soup was rich and tasty despite being oddly creamy, which was surprising given that usage of dairy is not native to Oriental cuisine. It was specked with small cubes of dubu (tofu), a hallmark of a higher class of restaurant. Both the gyeran mari and the small dolsot bibimbap are also rarely seen in lunch sets, once again demonstrating that KoBa is not just another run-of-the-mill Korean restaurant. And last but not least, the kimchi I had this time is possibly the best restaurant kimchi I've had yet in London, though I don't remember it being that memorable on previous visits so perhaps it still needs consistency. For me it was the perfect harmony between spicy, sweet and tart, but kimchi is something that is very much down to personal taste – I myself prefer it high on the spicy and sweet notes, but not so sour or tangy, your mileage may vary.
KoBa is a restaurant I regularly revisit, and one that I would highly recommend to anyone who would like some good KBBQ in a trendy setting. The décor is stylish enough that one can be perfectly comfortable in bringing in a date or a business partner. Service is polite and efficient, and although the dinner prices may stack up, the lunch menu sets are a fantastic bargain. I hope you'll enjoy KoBa as much as I did, see you next time for more London Hansik!
Arthur's personal rating: 7/10