Artist Talk by Hideyuki Katsumata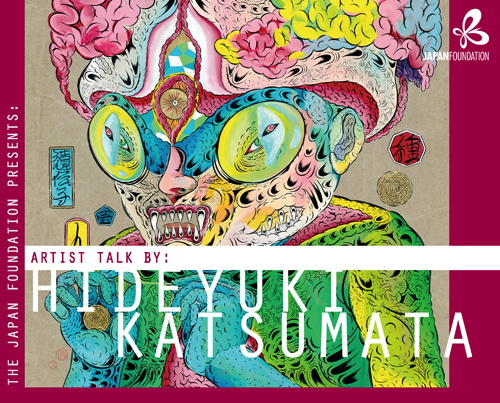 Hideyuki Katsumata is multi-disciplinary artist who creates murals, prints, and videos featuring way out characters and forms saturated with vivid colours. Whether he is producing a real time visual performance (VJing) synced to songs live in front of an energetic crowd or painting over a piece of sheet music paper, his almost irrational compositions where forms are placed around, in between, and in front of each other, highlight his brisk line work and freeform approach to image-making. Exhibiting worldwide since 2002, Katsumata's collection of loud, unashamed, and sometimes slightly indecent images reveal a glimpse into the inner workings and private imagination of this modern Japanese artist.
On the occasion of his largest exhibition to date, USO de HONTOU at Dundee Contemporary Arts, the Japan Foundation has invited Katsumata to discuss his impressive variety of work and his design practices. With a portfolio that includes commissioned artwork like designing album covers, or producing motion video works with over 800,000 hits on YouTube, this talk will provide a rare insight into the artist's fresh and spontaneous style; reveal his sources of inspiration as well as the trace the journey from idea to final execution.
Date: 5 October 2015 from 6.30pm
Venue: LVMH Lecture Theatre (E003), Central Saint Martins, Granary Building, King's Cross, 1 Granary Square, London NC1 4AA