Artist Talk: Excavated Reverberations by Hiraku Suzuki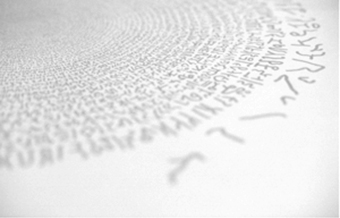 In Hiraku Suzuki's practice, drawing is expanded from a primitive method of expression into a contemporary technique of reflection and transformation. Associating the act of drawing with the process of excavation,' he reveals memories and 'unknowns' that lie dormant within our daily life. He perceives paper surfaces as excavation sites, carefully inscribing the moment when the different dimensions of time and space are generated from a limited two-dimensional phase. His recent drawings, in which he repeatedly uses light reflective materials such as silver marker and spray paint, shift their visibility according to the viewers' perspective, creating resonance with the immediate environment.
In this exhibition, Excavated Reverberations, Hiraku Suzuki presents his recent approaches to drawing through several series of works on paper, applying various different methods. He has a constant interest in the genesis of letters and symbols. This leads him to explore the concept of alternative universal languages, which he relates to familiar environments and materials in today's world.
Hiraku Suzuki was born in 1978 in Miyagi, Japan, and currently lives and works in Berlin, Germany. He received an MA in Fine Arts from Tokyo University of the Arts in 2008. He has been awarded various grants such as from organisations including the Asian Cultural Council (2011-2012) and the Pola Art Foundation (2012-2013). Recent solo exhibitions have included those held at Wimbledon Space, London (2011); Galerie du Jour Agnes b., Paris (2010) and Tokyo Wonder Site Shibuya, Tokyo (2008). Group exhibitions include Son et Lumière, et sagesse profonde, 21st Century Museum of Contemporary Art, Kanazawa (2013), One and Many, Location One, New York (2012); Roppongi Crossing, Mori Art Museum, Tokyo (2010) and Between Site & Space, ARTSPACE, Sydney (2009). His works are held in the collection of the 21st Century Museum of Contemporary Art, Kanazawa and Agnes b. Collection. He has produced the catalogue GENGA published by Kawade Shobo Shinsha/Agnes b., and Looking For Minerals published by BEAMS.
Date: 2 May 2013, 6pm-7pm
Venue: Daiwa Foundation Japan House, 13/14 Cornwall Terrace, London NW1 4QP UK
Tel: 020 7486 4348
Email: events@dajf.org.uk
Web: www.dajf.org.uk
Organiser: Daiwa Anglo-Japanese Foundation