Artist Talk: Taro Izumi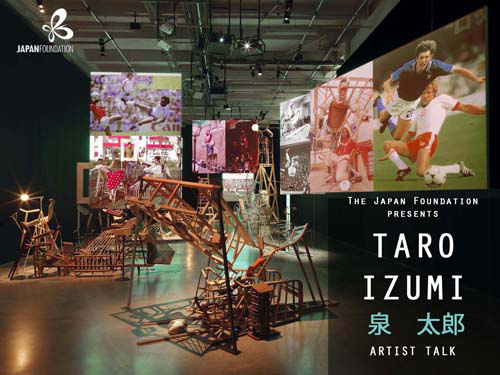 Taro Izumi, one of Japan's representative artists from the younger generation, inventively combines a vast array of media ranging from drawing and sculpture to performance and video to create thought provoking multimedia installations. His large structural works are often made up of simple, familiar objects, constructed in such a way as to transform everyday into the absurd. His playful, almost childlike works often conceal undertones of dark humour and irony which exist in our daily life. He has been invited to exhibit by numerous respectable art institutes such as the Museum of Contemporary Art in Los Angeles, Seoul Museum of Art and Art Basel, amongst others.
Celebrating his first solo show in London at White Rainbow Gallery, the Japan Foundation is delighted to hold this special evening with Taro Izumi, in which the artist will discuss his unique and collaborative approach to making art, and question the seemingly unfused relationship among images, body and consciousness. The talk will also explore how he constantly challenges the media and objects he works with, as well as the audiences who view them.
Date: 18 September 2018 from 6.30pm
Venue: Jerwood Space, 171 Union Street, London SE1 0LN