Artist talk: Tokyo Portraits by Carl Randall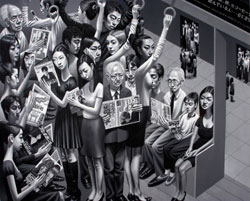 Tokyo Portraits is a series of figurative paintings inspired by the people and places of Tokyo – responses to everyday life in Japan's capital, as seen through the eyes of a visiting UK artist. Inspired by the city's crowded streets, large canvases depict masses of densely packed faces. These works have been made in collaboration with hundreds of people living or working in Tokyo, each volunteering to sit for their portraits. Other paintings are based upon everyday life in Tokyo, depicting people in trains, shops and streets – subtle distortions in space and scale often being used to combine the familiar with a slight sense of the unreal.
Themes dealt with in these works include overpopulation, community and the individual and the group. A recurring theme is urban isolation – anonymous strangers in crowded public spaces; people sharing the same close physical space, but mentally existing in separate private worlds – a phenomenon that can be seen in large cities such as Tokyo. This exhibition will also include Japanese ink paintings and smaller individual portraits of Tokyo residents, such as the writer Donald Richie.
The artist, Carl Randall, will be joined by Andrew Stahl, Head of Undergraduate Painting and Director of Undergraduate Studies at The Slade School of Fine Art, University College London.
Date: 13 February 2014
Venue: Daiwa Foundation Japan House, 13/14 Cornwall Terrace, London NW1 4QP UK
Tel: 020 7486 4348 Fax: 020 7486 2914
Email: office@dajf.org.uk
Web: www.dajf.org.uk
Organiser: Daiwa Anglo-Japanese Foundation