Artist talk: Yoshitomo Nara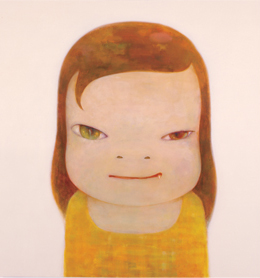 Yoshitomo Nara is one of the most influential and internationally renowned contemporary artists from Japan, best known for his paintings of cartoon-like wide-eyed children and animals. The characters in Nara's works often sport fiendish expressions and provocative stances; appearing 'cute' at first, but also convey underlying tones of adult anxiety, isolation and rebellion. Adored by legions of fans and critics, Nara's works, ranging from paintings, sculptures, ceramics and large-scale installations have been displayed in museums and galleries around the world, and his iconic images have also graced t-shirts, CD covers, skateboards and even yo-yos.
On the occasion of his solo exhibition taking place at Dairy Art Centre, London, Nara will introduce his artistic development over his 30-year career as well as speak about his day-to-day creative practice.
This is a very rare opportunity to gain a further insight into one of Japan's most legendary artists who seldom makes public appearances, whilst surrounded by his paintings, drawings and sculptures on display.
Date: 3 October 2014 from 7.00pm
Venue: Dairy Art Centre, 7a Wakefield St, London WC1N 1PG