Asiana Inaugurate Flights from Busan~Hanoi, Busan~Ho Chi Minh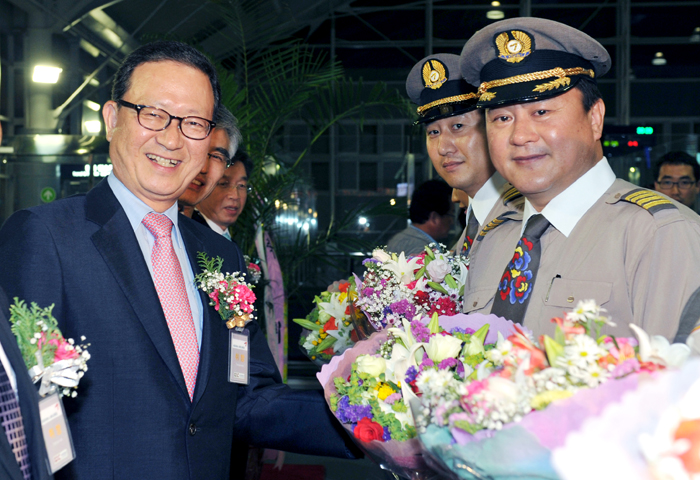 Asiana Airlines (President: Young-Doo Yoon) inaugurated flights on the 1st of June from Busan to Vietnam's capital Hanoi and Ho Chi Minh City the largest economical city in Vietnam.
Asiana Airlines President & CEO Young-Doo, Yoon, Busan Regional Aviation Administrator CEO Choon-Soon, Cho, Korea Airports Cooperation Busan Regional Chief Seung-Chul, Oh and other distinguished guests held a inauguration ceremony at the departure gates of Busan International Airport on the 1st of June at 20:20pm.
Asiana Airlines President & CEO Young-Doo, Yoon commented "With the inauguration of the two routes, it is anticipated that cultural and economical exchanges between the nations will increase with Vietnam being Korea's largest South East Asian trading partner. It is also anticipated that the inauguration of the two routes will bring cultural and economical benefits to the Busan and Gyeongnam region of Korea."
Also Asiana will be establishing an additional 7 day time flights from Incheon to Ho Chi Minh City (Daily Flights) starting from the 23rd. By increasing 2 daily flights, Asiana now provides a wide range of convenient flight schedules in which passengers can now conveniently choose from. Asiana Airlines has now become the largest airline to operate a total of 35(Incheon/Hanoi: 7 weekly, Incheon/Ho Chi Minh: 14 weekly, Busan/Hanoi: 7 weekly, Busan/Ho Chi Minh: 7 weekly) weekly flights from Korea to Vietnam.
Meanwhile, Asiana Airlines commenced code share flights with EVA Airlines on the Incheon/Taipei route starting from the 1st of June.
Asiana Airlines and EVA Airlines both operate the Incheon – Taipei route 9 and 7 flights(Scheduled Flights) a week. With both airlines code sharing flights to Taipei, 16 flights will be provided to passengers whom now have a wider range and a more convenient flight schedule to choose from.
To provide the most benefit and convenience towards passengers, both airlines will cooperate in variety of sectors such as sharing mileages, joint marketing and others. With this code sharing, Asiana operates a code sharing network of 23 airlines to 18 countries, 237 routes and 2105 flights a week.