Asiana signs Strategic Partnership with Turkish Airlines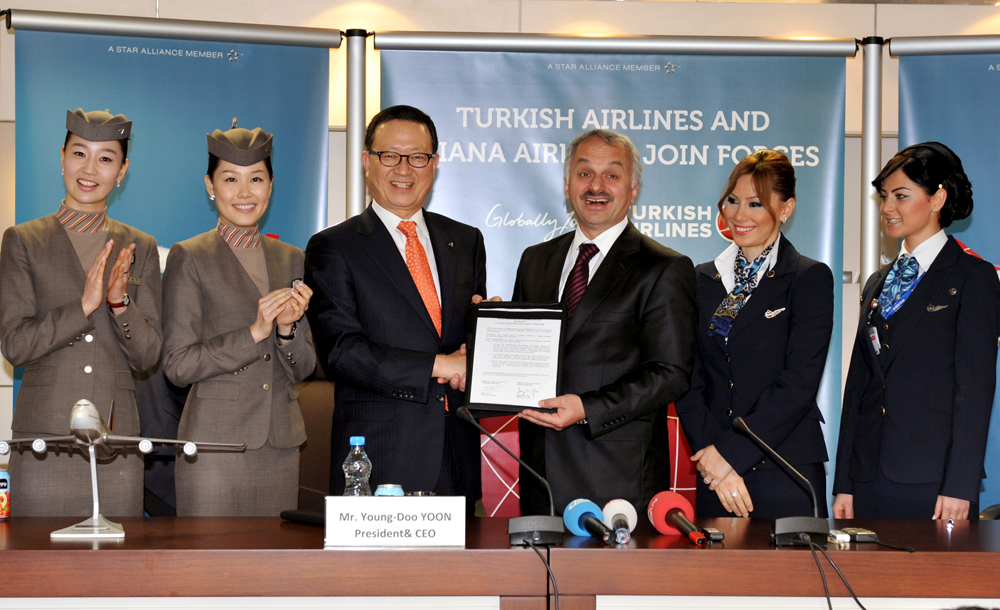 Asiana Airlines (President: Young-Doo Yoon), in celebrating the inauguration to Istanbul, will be expanding its strategic partnership with the Star Alliance member carrier Turkish Airlines. Asiana will be expanding its code share flights of Incheon ~ Istanbul to 10 weekly flights with Turkish Airlines. Asiana will also expand its code share flights with Turkish Airlines on 8 of Turkish Airlines International and domestic routes.
Asiana Airlines President & CEO Young-Doo, Yoon and Turkish Airlines CEO Temel, Kotil held a joining ceremony in the head quarters of Turkish Airlines in Istanbul on the 30th of March at 3:00 p.m. in signing an agreement to expand the code share partnership and strategic partnership between the two companies.
Asiana Airlines President & CEO Young-Doo, Yoon commented "This strategic partnership shows the development of the close relations that Asiana and Turkish Airlines has had during the past 14 years. With the new strategic partnership the two airlines have now an opportunity to make a firm stance in the Korean and Turkish markets.
With the new code share partnership, Asiana's network within Turkey has now expanded. Passengers are now able to travel to the capital Ankara, and tourist attractive cities like Kayseri and Izmir. Passengers are now even able to visit Kenya's capital Nairobi by transiting in Istanbul and using Turkish Airlines code share flights. On the other hand, Turkish Airlines are now able to use routes from Incheon to Busan, Fukuoka, Nagoya and Sydney. By expanding code share flights, passengers from both airlines convenience will dramatically improve.
With the two companies' code sharing flights, Asiana Airlines code share network has expanded to a total of 22 airlines, 17 nations, 235 routes and 2,087 weekly flights. Not only the expansion in routes but the two companies will expand its strategic partnership in the areas of sales and service in forming a win-win strategy.