Asiana's Host 10,000 visitor for IT Tour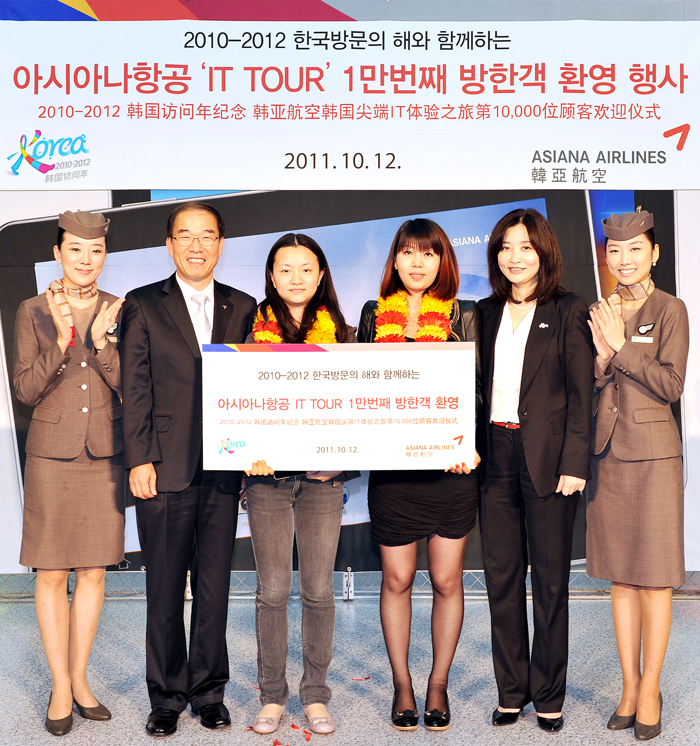 Asiana Airlines (President: Young-Doo Yoon) held a welcoming ceremony of the 10,000 visitor to its IT tour program at Incheon International Airport 1st floor arrival gates on the 13th I.
The 10,000 visitor to arrive was 'Li Jing' whom arrived in Incheon from Pudong China on Asiana's OZ368 flight. Asiana Airlines Executive Vice President Ryu Kwang-hee of Passenger Business and Visit Korea Committee's Marketing Chief Han Kyung-Ah handed out round-trip tickets and IT product to the 10,000 visitor.
Li Jing commented "I have always been interested in Korea's advanced IT products, so I decided to join the tour. Unexpectedly, I am very happy that I received big gifts." "I am also looking forward to experiencing Korea's traditional culture at Insa-Dong, Shin-Cheon Tour, and traipsing around the shopping streets in central Seoul."
Starting from the 27th of June, Asiana included the IT Tour program among its sales packaged throughout Asiana's sales offices in China. The IT Tour program includes visits to the Delight Exhibition hall of Samsung Electronics showroom in Southern Seoul, the 'Pavilion' showroom in Sang Am-Dong, the huge electronics market in Yongsan, and Jeju Island. The IT Tour program has shown a sensational popularity and within 3 months around 10,000 visitors have purchased this package.
Asiana Airlines Executive Vice President Ryu Kwang-hee of Passenger Business whom attended the ceremony commented "Along with the large popularity of Hallyu (Korean Pop Wave), we intend to naturally give the country's IT branding a boost overseas and plan to promote the program in other parts of Asia as well as in China."
Recently, Asiana focused on attracting Chinese tourist during the past month. About12,000 Biojian Group tourists visited Korea last month in which it covered 62%. Also 1,750 Woongjin Coway's Chinese employee's incentive tour to Korea covered 40%. Asiana is in the forefront of continuing the 'Hallyu (Korean Wave) during the '2010-2012 Visit Korea Year'.