Asiana's New Service Slogan & Airport Services Uniform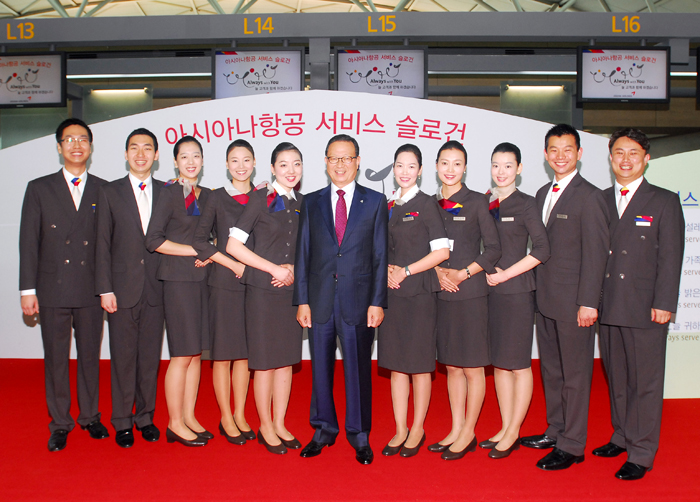 Asiana Airlines President & CEO Young-Doo, Yoon and around 200 Asiana Airlines staff composed of flight attendants and airport services staff were present at Incheon International Airport departure gate located on the 3rd floor on the 9th of June at 11 am to host the launching ceremony of the service slogan and new airport services staff uniform.
Asiana Airlines President & CEO Young-Doo, Yoon commented "In order to provide the best of services and to meet the support and expectations of our customers, we have released a new slogan and uniform. Like the new slogan, we will do our best to meet our customers need."
Asiana's service slogan 'Always with You' main objective is to be with the customers. Asiana's new service slogan is composed of 4 service pledges △Originality (To serve our customers with a fluttering mind), △Sincerity (To treat the customer like family) △Suavity (To treat our customers with a smile), △High Quality (To serve our customers preciously).
This new service slogan and the 4 service pledges were made by a special team formed in Asiana in which a contest was performed towards the staff of Asiana. Among the chosen, the most appropriate sentences were chosen to meet the customer's satisfaction. The new slogan was announced to the public in facing the summer peak season to strengthen the service dedication of the staff of Asiana.
Along with the announcements of the new service slogans, Asiana announced the new staff uniform of the Asiana's airport services. The new uniform has the traditional Korean color of Saekdong (rainbow striped color). The Saekdong pattern is imprinted on the neckties and scarf of the uniform. The uniform provides a dignified and polishing image.
Along with the announcements of the service slogan, Asiana Airlines will shorten check-in timings, strengthen the Pre-Mom, Happy Mom services and introduce new high quality Business Class services inside the cabin to strengthen the customer's convenience.