Ayakashi – An Evening of Unnerving Japanese Literature on Stage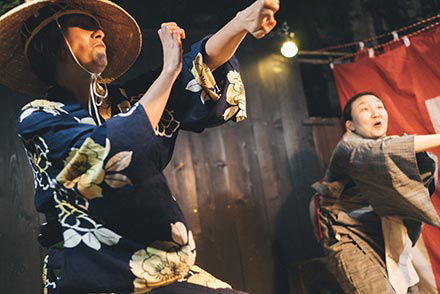 Japanese folklore and literature take to the stage in a one-time performance of Ayakashi, a double bill of ghost storytelling and staged reading, specially picked to match the dungeon-like beauty of The Horse Hospital in Russell Square. In collaboration with theatre company Doubtful Sound, the Japan Society is pleased to present this unique show in which actors from London and Tokyo collaborate in adapting and reading Japanese modern stories and traditional legends on stage.
The evening will start with storytelling of Japanese folktales from Yamagata and Ishikawa. Doubtful Sound has chosen some of the darker tales from their repertoire for this event. Growing private parts, snake wives, dancing necromantic cats, and 'the woman who wouldn't eat' all feature in these tales from rural Japan.
Following the storytelling, Japanese actress Kisato Nishi will perform a staged reading of Natsume Soseki's The Tower of London. The story combines Natsume's real observations of the Tower of London while he was living here in the early 1900s with fictional visions the tower conjured up.
Date: Saturday 23 September 2017, 7:00 for 7:30pm
Venue: The Horse Hospital, Colonnade, Bloomsbury, London WC1N 1JD
£15 advance ticket
£18 on the door