Ayako Yamazaki – violin with Ekaterina Lazareva – viola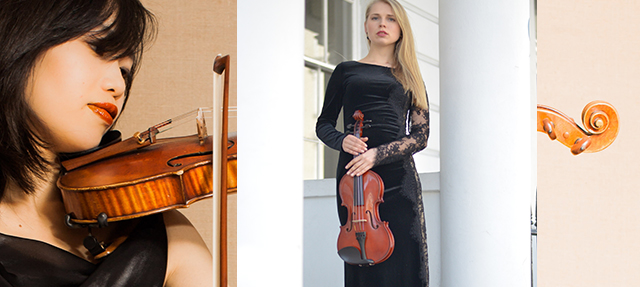 Programme:
W.A. Mozart. Duo in G major KV 423:
1st movement-Allegro.
J.W. Kalliwoda:- Duo No.1 op.208
Adagio sostenuto
Allegro non tanto
Andante moderato
Scherzo
Allegro risvegliato
Duo No.2 Pastorale:
Allegro Moderato
Allegretto grazioso
Scherzo
Allegro non tanto
Artist info:
Ekaterina Lazareva was born in 1985 in Belarus. From 2000, she began to study viola with Prof. L.L. Lastovka and from 2004 was her student at the Belarusian State Academy of Music. Between 2003 and 2007 she won prizes at the E. Kohu Internation Music competition in Chisinau, Moldova and at the International Competition for Strings in Kiev, Ukraine. In 2009 she won 3rd prize with her string quartet at the International Chamber Music competition in Smarghon, Belarus. Ekaterina actively participates in the cultural life of her country and has been performing as a soloist in Belarusian Philarmonic. She was also an exhibitioner of a special presidential fund for the support of youthful talent. In 2009 she moved to London to pursue her solo and chamber career. Since then, she has given a number of lunchtime solo and chamber recitals at such places as St. John's and St. Peters Church in Notting Hill, St. Alfege Church in Greenwich, All Saints Church in Kingston, at the Guildhall School of Music and Drama, The Orangery in Holland Park, Beck Theatre, Bridewell Theatre and at such festivals as The Little Proms and Earl's Court Festival, as well as a number of recitals with the Schnittke String Trio in the Netherlands. Additionally, she is a member of various London orchestras, such as I Maestri, with whom she travelled to The Sacred Music Festival on Patmos, Greece, as well as the London Chamber Players, Firebird and Russian Virtuosi of Europe. She has taken part in master-classes with Yuri Bashmet, Yuko Inoue, Yuri Zhislin and worked with conductors, such as Colin Davis, James Gaffigan and James Judd.
Born in Japan, Ayako Yamazaki started her musical life at the age of three with the piano and singing lessons and started playing the violin a year later. She moved to London in 2000, where she gained Bachelor of Music and Postgraduate Diploma from the Royal Academy of Music under professors Richard Deakin and Jean Harvey. Her study was supported by the Belmore-Woodgate Scholarsip throughout the years at the Academy. She was prizewinner at several internal competitions. She then went on further study with Bela Katona. The "work" with the master of the great Hungarian School greatly helped her discover deep inner singing and the true voice of the instrument in any style of music. Ayako has benefitted from masterclasses with a number of renowned violinists, such as Sylvia Rosenberg, Norbert Brainin, Lewis Kaplan and Thomas Brandis, as well as Bowdoin Music Festival in Maine, U.S.A.
Ayako's unique but sincere musical approach, which was formed through experiencing many different cultures and styles, brings her to perform in many places as a soloist and chamber musician throughout the U.K., as well as in Italy and Japan at venues such as Kings Place, St. James's Church Piccadilly (London) and Ongaku-no-tomo Hall (Tokyo) and her recital at the Bristol Cathedral got a rare 9/10 appreciation from the Bristol Evening Post music reviewer John Packwood.
She was a finalist at the Japan Chamber Music Competition with her violin duo. Her orchestral experiences include leading positions of various orchestras and performances in Philharmonia, New London Sinfonia, Arion Orchestra and London Chamber Players. She has been chosen for leading positions at orchestra festivals such as National Youth Orchestra of Netherlands and Britten-Peares Young Artist Programme. The experiences of playing under conductors such as Sir Colin Davis and Vladimir Ashkenazi gave her much inspiration. She has also toured to Algeria to work as a co-leader at the National Orchestra of Algeria. Having much interest also in Baroque music, she leads a consort for the choral works and operas of that period.
Date: Wed May 28th 2014, 1:10–2:00 pm
Venue: St. Sepulchre, the Musicians Church, Holborn Viaduct, London EC1A 2DQ
Tel: 020 72374445
Email: godfreyking316@btinternet.com
Web: www.ajsw.org.uk
Organiser: Anglo-Japanese Society of Wessex