Ballerina: The Reason I Keep Dancing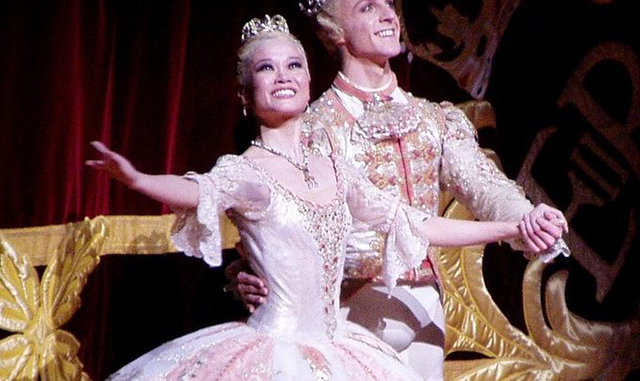 Japan has and continues to produce world class ballet dancers. Dancing at The Royal Opera House in Covent Garden is the pinnacle of a dancer's career, and young Japanese ballet dancers dream of joining the world-famous Royal Ballet company. Such is the success of Japanese ballet that Ryoichi Hirano and Akane Takada are currently principal dancers in the Royal Ballet. Miyako Yoshida, who has performed in numerous leading roles at the Royal Ballet, is probably the most famous Japanese ballerina in Britain. After retiring from the company, she is now teaching young talented dancers in Japan the art of ballet. In this talk, we invite her to tell us about her ballet experiences and to share her love of dancing with us.
Born and trained in Tokyo, Yoshida joined The Royal Ballet School in 1983 after winning the Prix de Lausanne. In 1984, she joined Sadler's Wells Royal Ballet, (now known as the Birmingham Royal Ballet), where she was promoted to principal dancer in 1988. In 1995, Yoshida joined the Royal Ballet as principal dancer. Spending most of her career in Britain, Yoshida captured the hearts of the British people, subsequently being awarded the prize of Best Female Dancer in the 2006 National Dance Awards. Known for her expressiveness, precision and feather-light yet powerful movement, Yoshida is beloved by many and has established a huge fan base both in Britain and all over the world. With more than two decades spent in dance, Yoshida took her final bow in Covent Garden with an emotional performance of Cinderella, reserving Romeo and Juliet for her final curtain call in her native Tokyo. In 2010 she left the Royal Ballet and is now a freelance dancer. She records her experiences as a ballerina in her recently published book, Ballerina: The Reason I Keep Dancing, 「バレリーナ・踊り続ける理由」.
Date: 13 January 2017, 6.00 – 7.00pm
Venue: Daiwa Foundation Japan House, 13 – 14 Cornwall Terrace, London NW1 4QP
Tel: 020 7486 4348
Email: office@dajf.org.uk
Web: http://www.dajf.org.uk
Organiser: The Daiwa Anglo-Japanese Foundation