Barbican Film Festivals, Seasons and Special Events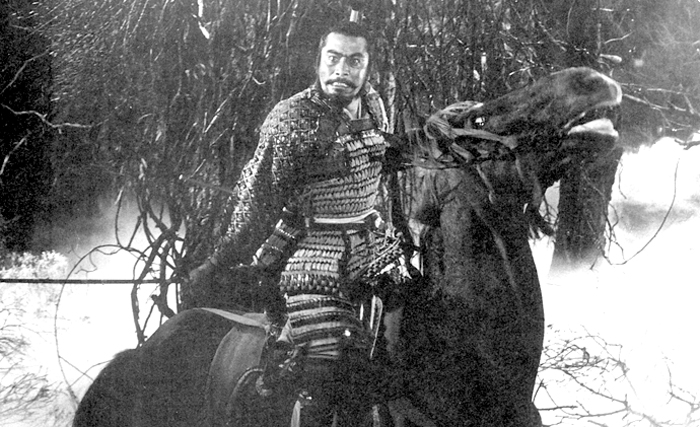 Barbican Film Festivals, Seasons and Special Events
*Throne of Blood + ScreenTalk with Yukio Ninagawa – Saturday 2 June
*Perpetual Movements Pina Bausch on Film – Saturday 9 June – Sunday 17 June
*Going Back to Reality: Portraying Pablo Picasso on the Canvas in Motion Saturday 23 June – Saturday 30 June
*CREATE 2012 London: Dreams of the City + Q&A with directors – Tuesday 26 June
babü. Oskar Schlemmer Performed – Thursday 28 June
Barbican Film Regulars
Silent Film & Live Music Series – The Astronomers Dream + Live musical accompaniment by Guildhall School's Electronic Music Studios – Sunday 10 June 3pm
Barbican Film Festivals, Seasons and Special Events
Throne of Blood (Kumonosu-jô) (12A) (Japan, 1957, Dir. Akira Kurosawa, 109min) + ScreenTalk with Yukio Ninagawa – Saturday 2 June, 2pm
Akira Kurosawa's unforgettable transposition of Shakespeare's Macbeth to the ghostly forests and grim castles of medieval Japan is laced with superb performances by Toshiro Mifune in the title role, alongside Isuzu Yamada as Lady Macbeth. Kurosawa mixes the Japanese with the Jacobean, drawing upon the imagery of Noh in this indelible dark treasure. The screening will be preceded by Japanese film specialist Tony Rayns in conversation with one of the most feted theatre directors in the world, Yukio Ninagawa.
Complementing Cymbeline in the Barbican Theatre
Perpetual Movements: Pina Bausch on Film – Saturday 9 June – Sunday 17 June
To complement Barbican Theatre and Sadler's Wells' month long Pina Bausch season, Tanztheater Wuppertal Pina Bausch: World Cities 2012, Barbican Cinema presents Perpetual Movements: Pina Bausch on Film, a series of rarely screened films celebrating the work of this legendary choreographer.
Dancing Dreams (Tanzträume) (PG*) (Germany, 2010, Dirs. Rainer Hoffmann and Anne Linsel, 92min) – Saturday 9 June, 3pm
Following a group of teenagers working under Bausch, from their first rehearsals through to opening night of Kontakthof, Dancing Dreams presents a rare opportunity to observe the work of one of our greatest choreographers.
On Tour with Pina Bausch (Un jour Pina m'a demandé) (PG*) (France/Belgium, 1983, Dir. Chantal Akerman, 57min) + The Green Table (PG*) (UK, 1967, Dir. Peter Wright, 35min) – Saturday 9 June, 5pm
Chantal Akerman followed Bausch and her company of dancers, the Tanzteater Wuppertal, for five weeks while they were on tour in Germany, Italy and France. Her objective was to capture Bausch's unparalleled art not only on stage, but behind the scenes.
+ The Green Table
In this BBC studio performance of The Green Table, we are given the rare opportunity to see Bausch as the dancer performing the work of Kurt Jooss, whose own groundbreaking style and technique was to have a significant influence on her later work as a theatre maker.
The Complaint of the Empress (Die Klage der Kaiserin) (PG*) (France/UK, 1989, Dir. Pina Bausch, 95min) – Saturday 16 June, 3pm
Bausch's first film presents a framework which is set by the changing seasons. The film illustrates the method Bausch has developed with the Tanztheater Wuppertal, in which the work tells no story but is made up of scenes put together like a collage, reflecting certain moods and invoking different associations.
A Primer for Pina (PG*) (UK, 1984, Dir. Jolyon Wimhurest, 30min) + Pina Bausch (PG*) (Germany, 2006, Dir. Anne Linsel, 44min) – Saturday 16 June, 5pm
Presented by famed author and political activist Susan Sontag, A Primer for Pina
takes a fascinating look at the work of the legendary choreographer.
+ Pina Bausch
Before choreographer Pina Bausch and her Tanztheater were known around the world, her new and unusual body language was ill-received, with the majority of audiences and critics becoming irritated and confused. In this film, she speaks about the initial reactions, whilst some of her dancers, set designer Peter Pabst and costume designer Marion Cito, discuss working under her visionary genius.
This screening is facilitated by the Goethe-Institut in London
Pina 3D (U) (Germany 2011 Dir Wim Wenders 100 min) – Sunday 17 June, 3pm
Shortly before her death in 2009, Pina Bausch began collaborating with acclaimed director Wim Wenders (Wings of Desire) on this unique documentary project, experimenting with new film technology to capture the process of dance on film and creating a benchmark for 3D cinema. A breathtaking experience which underlines Bausch's status as one of the most significant choreographers of our time.
Going Back to Reality: Portraying Pablo Picasso on the Canvas in Motion – Saturday 23 June – Saturday 30 June
Complementing Picasso's major exhibition at Tate Britain Picasso and Modern British Art, this series of films presents a selected body of films and panel discussions.
A Farewell to Arms (PG) (USA, 1932, Dir. Frank Borzage, 80min) + Panel Discussion with José Luis Alcaine – Saturday 23 June, 3pm
Based upon Ernest Hemingway's semi-autobiographical novel, A Farewell to Arms is a tale of love, focused on the tragic romance between an ambulance driver, Lt. Henry (Gary Cooper), and a nurse during World War I. According to Time Out magazine, Borzage used "light and movement like brushstrokes, integrating naturalism and a daring expressionism in the same shot…[creating]…romantic melodrama raised to its highest degree".
Picasso & Braque go to the Movies (PG*) (USA, 2008, Dir. Arne Glimcher, 62min), + Cubism (UK, 2009, Dir. Robert Gordon 2mins) + Panel discussion led by John Wvyer – Sunday 24 June, 2.30pm
Produced by Martin Scorsese and Robert Greenhut, this is a fascinating tour through the effects of the technological revolution, specifically the invention of aviation, the creation of cinema and their interdependent influence on artists Pablo Picasso and Georges Braque.
+ Cubism
Robert Gordon captures the visual essence and techniques of Cubism and transforms them into a beautiful work of moving image.
Pablo Picasso: The Legacy of a Genius (PG*) (USA, 1981, Dir. Michael Blackwood, 89min) + Panel Discussion led by Lynda Morris – Saturday 30 June, 3pm
Exploring the breadth of the artist's achievements through the insights and speculations of fellow artists, close relatives, historians and critics, Pablo Picasso: The Legacy of a Genius centres on thirteen key works which vividly represent the major turning points in Picasso's career.
Season curated by Sin Fin Cinema
CREATE 2012 London: Dreams of the City (#) + Q&A with directors – Tuesday 26 June, 7pm
Three short films presenting personal journeys through London's Olympic boroughs from artists Paul Kelly (Finisterre, What have you done today Mervyn Day?), Saint Etienne and Michael Smith (The Giro Playboy, Shorty Loves Wing Wong).
Commissioned by CREATE 2012
babü. Oskar Schlemmer Performed (PG*) – Thursday 28 June, 7pm
Leading authority and grandson of the artist, C. Raman Schlemmer, introduces the work of Oskar Schlemmer, the highly influential and charismatic painter, sculptor, choreographer, stage designer and Bauhaus master.
Followed by a performance of music composed by Oskar Schlemmer for The Bauhaus Dances accompanied by images. Trio Triadic performs, featuring Vincenzo Pasquariello on the piano.
Please note: Prices for this event are £13 online, £15 on the door.
Part of Bauhaus: Art as Life (Barbican Art Gallery, 3 May – 12 August 2012) Barbican Film Regulars
Silent Film & Live Music Series – The Astronomers Dream (PG*) + Live musical accompaniment by Guildhall School's Electronic Music Studios – Sunday 10 June, 3pm
Complementing last year's showing of A Trip to the Moon, this year's screening will include more experimental films by Georges Méliès, providing an overview of early 'stop motion' and other landmark films that include, or are made entirely, with early animation techniques.