Beauty of Japan and Soul of Creation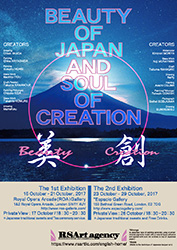 We, Radiant Star Art agency will have an exhibition in London, UK, to introduce Creators form Japan.
Japan is currently separated into 47 administrative districts, but since ancient times, small regions constructed various cultures with high identities, and brought up unique and interesting creations.
Japan's "Creation" is keenly aware of the air of the times, creating a new value by repetitively interlacing between tradition and its reinterpretation. We think that it is an important effort to continuously introduce Japanese creative activities and works to people who love art of the world.
And, through the "Creations" of Japan, I would like to lead to the deep knowledge of Japanese culture and local information from the aspect of art. Beautiful consciousness, which is distinctively Japanese, honest and fine mentality, and behavioral stance expressed as "Shosa*". I hope that you can feel these qualities of the Japanese people from our exhibitions.
We will strive to improve the presence of Japan's excellent Creators worldwide.
Date: 23 – 29 October, 2017
Venue: Espacio Gallery, 159 Bethnal Greed Road, London, E2 7DG
Email: reiko_shiga@rsartllc.com
Tel: +81-80-5408-7712
Web: http://rsartllc.com/
Organiser: Radiant Star Art agency LLC.