Behind-the-scenes: members tour of Japanese collections in Cambridge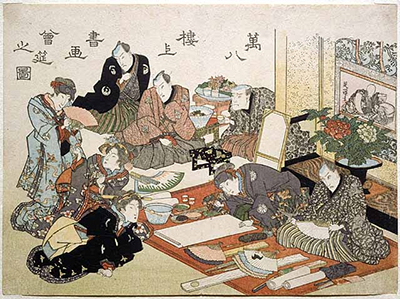 The Japan Society is organising a special visit to two Japanese archives in Cambridge, the Japanese print collections at the Fitzwilliam Museum and the Japanese Department at Cambridge University Library. Members will make their own way to and from Cambridge (unless otherwise requested), allowing them to explore the town at their leisure following the day's programme of events.
The Fitzwilliam's extensive collection contains prints that have been used in headline exhibitions, such as Snow Country: Woodcuts of the Japanese Winter in 2013, alongside others rarely displayed. Japan Society members will have the opportunity to meet with the Fitzwilliam's print curator, Craig Hartley, and explore a selection from the Museum's archives, including the work of Kitagawa Utamaro, Tsukioka Yoshitoshi and Utagawa Kunisada.
Following a break for lunch at the famous Fitzbillies Cafe, members will continue onto Cambridge University Library to join Noboru Koyama, Head of the Japanese Department, for a tour of the archive. We will examine some of the items in the collection, many of which regularly feature in museum exhibits, such as the current Buddha's Word: The Life of Books in Tibet and Beyond at the Museum of Archeology and Anthropology.
Date: Wednesday 23 July 2014, 10.45am
Venue: The Fitzwilliam Museum, Trumpington St, Cambridge CB2 1RB & Cambridge University Library, West Road, Cambridge CB3 9DR