Beneath the Surface: The Culture of Cosmetics in Japan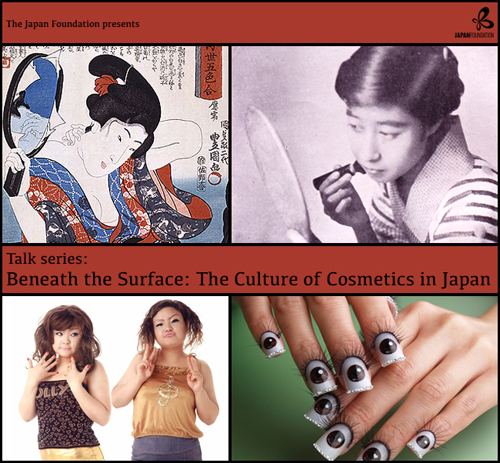 The development of cosmetics in Japan tells a distinctive story. It highlights Japan's past and provides a clear window into the changing ideals of beauty and taste, along with being an indicator of cultural trends in health and hygiene. The brand-conscious, fast-moving world of modern Japanese cosmetics, currently worth £10 million, represents the contemporary enthusiasm for personal grooming – but the act of grooming with cosmetic goods can be traced back to practices from ancient Japanese culture and society.
For the first time in the United Kingdom, Noriyo Tsuda, Chief Curator of POLA Research Institute of Beauty and Culture, will explore the culture of cosmetics in Japan. In two special talks Tsuda, an expert in comparative studies on the history of cosmetic culture in both Western and East Asian countries, will discuss how the production, application and use of cosmetics illuminates the cultural, social, and aesthetic changes that have taken place in Japan through the centuries.
Haniwa Beauty to Snow White – Japanese Cosmetic Culture from Ancient Times to Now
7 November 2013, from 6.30pm
From ancient customs to current trends, Tsuda will look at Japanese cosmetic practices over the course of history and discuss how Japanese cosmetics have developed through the centuries. Giving an overview of the aesthetic ideals and reasons for the use of these cosmetics, this talk will provide examples of how lifestyle and social circumstances have influenced the culture of cosmetics in the past and affected contemporary standards of beauty in Japan.
Beauty Icons – Primping and Preening in Edo and Meiji Japan
8 November 2013, from 6.30pm
In this talk, Tsuda will compare and contrast two of the most distinguishing periods of cosmetic culture in Japan, namely the Edo (1603 – 1867) and Meiji (1868 – 1912) eras. Exploring the characteristics of Japanese cosmetics in the Edo period, when traditional cosmetics are thought to have matured, she will elaborate on what cosmetics were used and who the trendsetters were. Moving on to the Meiji period, Tsuda will discuss how grooming standards and notions of "beautiful women" were impacted by drastic social reform after the opening of Japan to the West.
Date: 7 November 2013 – 8 November 2013
Venue: The Japan Foundation, London