Between the Stones (Phase 1) – Getting to Noh from page to Stage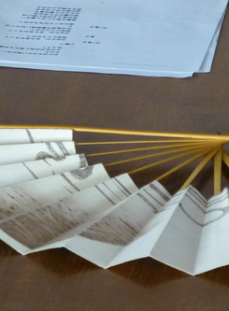 An Introduction to the Japanese Art of Noh and the birth of a New Noh…
'Noh' is classical Japanese masked theatre which combines elements of dance, drama, music and poetic text into a highly aesthetic form of art. In contrast to its minimalist stage, noh uses elaborate costumes and exquisite wooden masks.
4th December 2018, 7:15pm-8:45pm: The British Library
This evening illustrated talk introduces the form and presents a reading of the new noh, 'Between the Stones' to show how a new noh drama begins it journey 'from page to stage'.
David Hughes will introduce the evening and some of the musical qualities of noh. Jannette Cheong, author of Between the Stones, a new two-act English language noh drama, will share her experiences, discuss how she has worked with Japanese noh artists (including the Oshima Family Noh Theatre and noh mask maker, Hideta Kitazawa), and introduces the new project. Finally, Jannette, David, Henrietta Heald and Paul Laikin will give a reading of Between the Stones which explores how the burden of grief turns into an understanding and celebration of life and death, friendship, beauty and love.
A follow up event will be taking place on Tuesday 5 February 2019 also at the British Library with the creative team behind the drama Jannette Cheong, Richard Emmert, Teruhisa Oshima and Kinue Oshima. Tickets will be on sale in early December.
Admission: £10
15th December 2018, 2pm- 3.30pm: Pitt Rivers Museum, Oxford University
In contrast to its minimalist stage, nohuses elaborate costumes and exquisitely carved wooden masks such as those acquired at Pitt Rivers Museum from master mask-maker Hideta Kitazawa. This illustrated talk by Jannette Cheong is designed to introduce the key elements of classical noh. It will be followed by a reading of Jannette's new noh 'Between the Stones', which is being prepared for performance, to give a close up and interactive experience of the challenges of developing a new noh "from page to stage' using traditional techniques.
Admission Free