Beyond the Horizon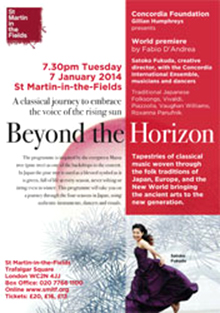 A musical journey from East to West, creating tapestries of classical music woven through the folk traditions of Japan, Europe and the New World to bring the ancient arts to a new generation.
The programme is inspired by the evergreen Matsu tree (pine tree) as one of the backdrops to the concert. This programme will take you on a journey through the four seasons in Japan, using authentic instruments, dancers and visuals.
The programme includes:
Two World Premieres by Fabio D'Andrea ("Album of the week" Classic FM, Top 100 Classical Charts (2013))
Roxanna Panufnik's atmospheric Zen Love Song with animated film, featuring VOCES8.
Satoko Fukuda violin
Fabio D'Andrea conductor/composer
VOCES8 international award winning vocal octet
Hibiki Ichikawa shamisen
Clive Bell shakuhachi
Ahmed Dickinson guitar
Ensemble of dancers from the Rambert School of Ballet and Contemporary Dance, and the Central School of Ballet.
Choreography by Estela Merlos principle dancer with Rambert and Miguel AltunagaRambert
Concordia International Ensemble
Tickets: £20, £16, £13
Date: 7 January 2014
Venue: St Martin-in-the-Fields, St Martin-in-the-Fields, Trafalgar Square, London, WC2N 4JJ
Barbican Box Office: 020 7389 0524
E-mail: info@concordiafoundation.com
Web: http://www.concordiafoundation.com
Organiser: Concordia Foundation